A new live music Club was launched at High Wycombe Town Hall on Friday 14th July 1978 with the 'Peppers' Club promoting a 'New Wave/Punk' night featuring London's The Lurkers, Damned exile Rat Scabies' White Cats and local band The Vents.
Peppers appears to be joint venture run between local promoter Ron Watts and Wycombe District Council, with the aim of offering membership to gig goers in a similar way to the much longer running Friars Club at Aylesbury.  Punters attending the Lurkers gig were given free membership cards with the promise of cheaper admission at subsequent Town Hall gigs.
The 'Club' idea was also intended as an attempt to prevent violence at gigs. The principle being if you caused trouble you would have your membership revoked and thus not admitted to future gigs under the Peppers name.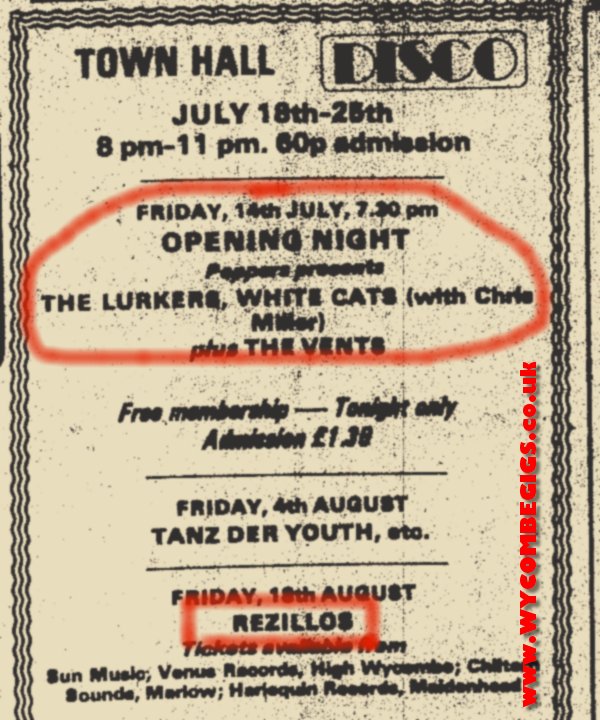 The opening night for Peppers took place midway through a year that had slowly been taken over by music related blockbuster films 'Saturday Night Fever' and 'Grease'.  By mid-July 1978, 'You're The One That I Want' by John Travolta and Olivia Newton-John from the 'Grease' soundtrack had been at No.1 in the UK singles chart for five weeks.  In the album charts, 'Saturday Night Fever' had been sitting at the top for 11 weeks!
The live music scene at the time was about as far removed from this summer of cheese as you could imagine. A gig at the Town Hall proved a welcome relief from the increasingly nauseating Travolta based music being inflicted via national radio and TV… and the 'Disco' nights at the same venue on Tuesday evenings!
The Lurkers, headliners for The Peppers opening night, had formed in West London in the latter part of 1976.  They played some of their first gigs at the iconic Roxy Club venue in early 1977.  Gigs later that year saw them support the likes of The Jam, Eater and Slaughter and The Dogs. In November 1977 they also made a headline appearance at High Wycombe's Newlands Club.
They released their first record on Beggars Banquet – a track titled 'Shadow'/'Love Story' in July 1977. A second single, 'Freak Show'/'Mass Media Believer' followed in October 1977, both with limited success.  Their third single, 'Ain't Got a Clue'/'Ooh!, Ooh! I Love You' was released in May 1978 and proved to be their biggest hit – reaching 45 in the UK singles chart.  Their debut album, 'Fulham Fallout' was released in June 1978, while another single, 'I Don't Need To Tell Her'/ 'Pills' was released in the same month as their High Wycombe Town Hall gig and earned them an appearance  on Top of The Pops on 3rd August 1978.
Their line-up at the time of the Town Hall gig is believed to be Howard Wall (vocals), Pete Stride (guitar), Nigel Moore (bass) and Pete 'Manic Esso' Haynes (drums).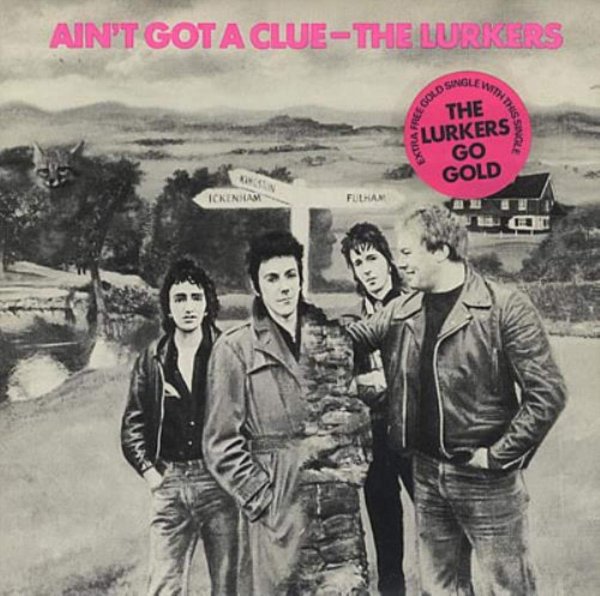 Meanwhile, The White Cats and been formed around January 1978 following the latest split-up by punk originals The Damned – drummer Rat Scabies (real name Chris Miller) recruiting Kelvin Blacklock (vocals), Eddie Cox (guitar) and Steve Turner (bass).  Blacklock had been a member of early early punk band London SS.  The White Cats played as headliners at The Nag's Head on 6th July 1978 and clearly had impressed promoter Ron Watts to bring them as support for The Lurkers – it was perhaps a role that they didn't enjoy?
I'm indebted again to a couple of friends who kept diaries during 1978 and both attended The Lurkers event at The Town Hall. First up, 'Buzz' recalls The White Cats set as being 'very aggressive' and added: "I wasn't impressed by their performance, and it seemed neither was anyone else. They got absolutely no reaction from the audience whatsoever.  The White Cats were pi**ed off, and called one song 'Bollo*ks to Wycombe Town Hall'.  No-one seemed to care."
Meanwhile, 'Tapps' also recalls the attitude of The White Cats and confirms they introduced their final song of the evening as 'Bollo*ks to Wycombe Town Hall'.
The White Cats were fairly short lived as they struggled to find their own identity. Their set included The Damned's 'Stab Your Back' and another Damned song in the making, 'Second Time Around'.  The latter appeared on The Damned 1979 album 'Machine Gun Etiquette', but renamed as the title track.  Other songs in their set-list that night would most likely have included 'Escalator Love', 'Teenage Dream', 'Junkyard Angels', 'Detectives', 'Here I Go Again' and 'Shotgun Lovers' – all recorded for John Peel Sessions in April and August 1978.
'Buzz' also recalls The Lurkers in his 1978 diary, saying: "The Lurkers played a fast, exhilarating set to a larger audience, some of which may have been their fans from London. From start to finish there was a massive area of pogoing and we all really exhausted ourselves! There was no violence at all."
So the Club idea appeared to have worked, at least for this gig?
A review of Town Hall gig also appeared in 'Rock On' magazine and I include the complete text below as it collaborates with the memories from 'Buzz' and 'Tapps' :
"The hall was half full and the atmosphere wasn't exactly electrifying either, which was disappointing when an exciting band like the Lurkers are appearing.

First on were a young band called the Vents. A lack of aggression and attack produced a rather timid less than ordinary performance.  The only memorable thing was the contorted expressions worn by the lead guitarist.

Next on were White Cats. With the inimitable Rat Scabies. Their performance was an improvement on the Rainbow showing, but only just.  Vocalist Kelvin Blacklock was a poor shadow of Billy Idol, and proceeded to act the fool throughout.  There was a good performance of the Damned's Stab Your Back, but that apart, they were predictable, and when trying to be nasty, merely irritating.

Finally, on came the Lurkers, and alter a disastrous start when Pete Stride's guitar strings broke during Ain't Got A Clue, they proceeded with a superb rock 'n' roll performance.

The set included Be My Prisoner, Shadow, Then I Kicked Her, Total War, and the new single, Pills. Howard Wall was brilliant, and Esso gave a stunning performance on drums during the unexpected break. All in all a memorable gig, confirming their brilliance on stage and album.  But the Lurkers apart, the evening was a pretty poor one."
For your listening and viewing pleasure:

The White Cats – Second Time Around – audio – demo 1978
The Lurkers – I Don't Need To Tell Her – Revolver TV show 1978
The Lurkers – Shadow – live video – Red Cow, Hammersmith 1978
References:

https://www.thelurkers.co.uk/history/

https://en.wikipedia.org/wiki/The_Lurkers

https://www.punk77.co.uk/groups/whitecats.htm