Scottish punk/new wave band The Skids played their first gig outside of Scotland or London on Friday 30th June 1978 (*) with a date at a Ron Watts promoted night at The Nag's Head.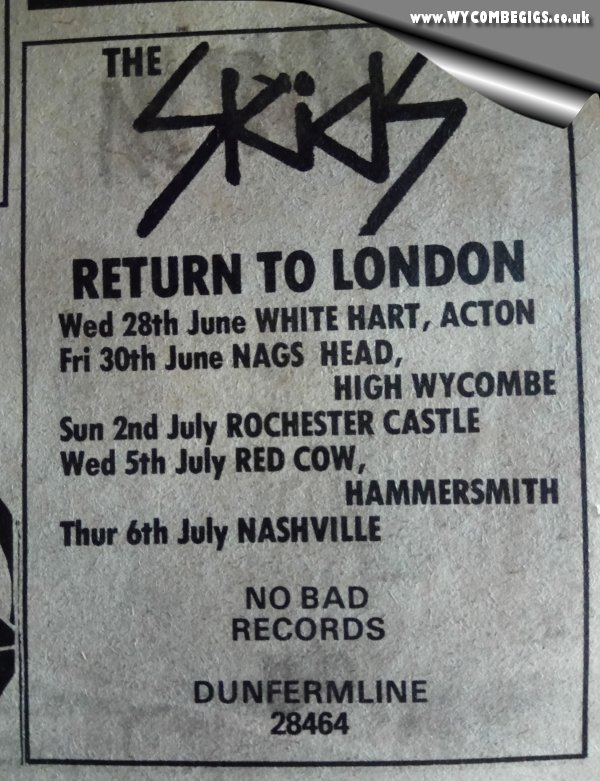 (*) I've seen the date of The Nag's Head appearance documented as both Thursday 29th June 1978  and Friday 30th June 1978. – The Thursday date was certainly the originally intended date and would tie in with the usual Thursday 'Rock Night's under Ron Watts' promotion.  The music paper listings for that week show Thursday 29th June but I was delighted (and more confused) to discover the above tour advert in The Record Mirror showing The Skids 'Return To London' dates with The Nag's Head appearance indicated the 30th June. My theory on why it might have been moved is below.
The Skids had been formed in 1977 in Dunfermline by then 19-year-old guitarist Stuart Adamson. He recruited Bill Simpson (bass), Thomas Kellichan (drums) and a 16 year old Richard Jobson on vocals. They played their first gig in August 1977 and released their first record in February 1978, the Charles EP on the No Bad record label (Tracks: 'Charles', 'Reasons' and 'Test Tube Babies'). The EP was championed by John Peel and led to a rapid rise in their popularity away from their homeland.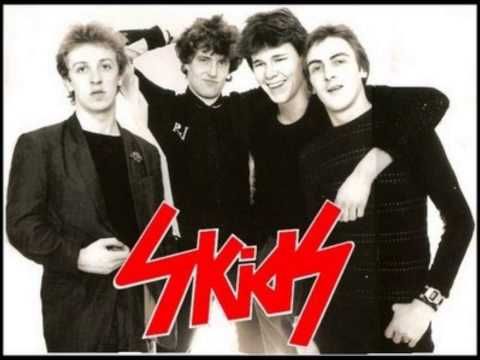 The Skids subsequently made their first journey 'down south' during April 1978, playing well-known London venues; including The Rochester Castle (Stoke Newington), Red Cow (Hammersmith), Hope and Anchor (Islington) and The Nashville (Kensington). The trip coincided with a record deal being signed with Virgin Records.
Their return south in June 1978 followed a first John Peel session recorded on 16th May 1978 and first broadcast three days later. The tracks were: 'Of One Skin', 'Open Sound', 'Contusion', 'Night and Day' and live favourite 'TV Stars'.
The tour dates show The Skids playing a 28th June 1978 show at The White Hart in Acton.  Listings show this gig with the Scottish lads supporting Tubeway Army (Gary Numan's electronic band in the making).  By some accounts it was a violent evening at a venue famous for its 'punk' nights.  I also noted a couple of other interesting gigs from the same weekly listing. The Clash made their Aylesbury Friars debut on Wednesday 28th June 1978 in front of a sell-out 1,000 plus crowd – they had played the Nag's Head in November 1976 in front of barely 100 people!  On Thursday 29th June 1978, David Bowie played before around 20,000 fans at London's Earl Court.  He had made a very early appearance in High Wycombe during 1966 – also playing to less than 100 people.  Perhaps the original date was moved to avoid clashing with The Bowie date? Members of The Skids were big fans of Bowie? Meanwhile, if you stayed at home to watch Top of The Pops on the Thursday night, you could have seen Dave Lee Travis presenting a typical show for the year – culminating in John Travolta and Olivia Newton John's – 'You're The One That I Want' video being shown for the third consecutive week. It would remain at No.1 for a further seven weeks! There was hardly a 'punk' revolution storming the top of the charts in the summer of 1978!
Back at The Nag's Head the crowd for The Skids was also around the 100 mark. Promoter Ron Watts recalls the evening in his 2006 autobiography – 100 Watts – A Life In Music, saying:
"The Skids [were] yet another band with obvious massive potential. Richard Jobson was a dynamic singer, not blessed with the greatest of voices but he could handle a crowd. They also had Stuart Adamson, a guitarist who went onto even greater things with Big Country before sadly committing suicide in America. That was a real tragedy; Stuart had so much talent, yet he couldn't cope with the situation."
Success for The Skids would come relatively quickly following their Nag's Head appearance. Within 12 months they had recorded three further sessions for John Peel and released a trio of singles that would propel them into the limelight.  Their debut on Virgin, 'Sweet Surburbia', was released in September 1978, while their 'Wide Open' EP released in October 1978 featured the storming lead track 'The Saints Are Coming'.  Both singles had minor chart success but that was blown out of the water with the release of 'Into The Valley' in March 1979 – reaching No.10 in the UK charts and earning them regular appearances on Top of the Pops.  The track was taken from their debut album, 'Scared to Dance' – released in February 1979.  In November 1979 – less than 18 months after their Nag's Head show, they had sold out The Rainbow Theatre in London.
For your listening and viewing pleasure – starting from the era The Skids played The Nag's Head
Skids – 1st John Peel session for BBC Radio One – recorded 16th May 1978
The Saints Are Coming – The Skids – BBC Top of the Pops – November 1978
Into The Valley – The Skids –BBC Top of the Pops – March 1979
References and further reading:

https://en.wikipedia.org/wiki/Skids_(band)

http://www.the-skids.com/WEBPROTECT-timeline.htm

http://auralsculptors.blogspot.com/2012/01/tubeway-army-early-years.html

https://writewyattuk.com/2017/05/26/absolute-game-on-reconvening-the-skids-the-richard-jobson-interview/