Another blow for live music in High Wycombe with the news that the gig below was CANCELLED due to Council restrictions.
Statement from Public Service Announcement said
It is with great regret that tomorrows gig has been cancelled! This is due to the council restricting the volume for live gigs to be an unworkable level. Let's hope that the issue is resolved as The Antelope and particularly Roxi were trying to promote live music in Wycombe.
A quick mention of a cheap entry gig at The Antelope, High Wycombe on Friday 26th July 2019.
£1 will get you into to see Public Service Announcement, Calico Street Riots, Freudian Session and Bleed Happiness. Doors open at 7pm.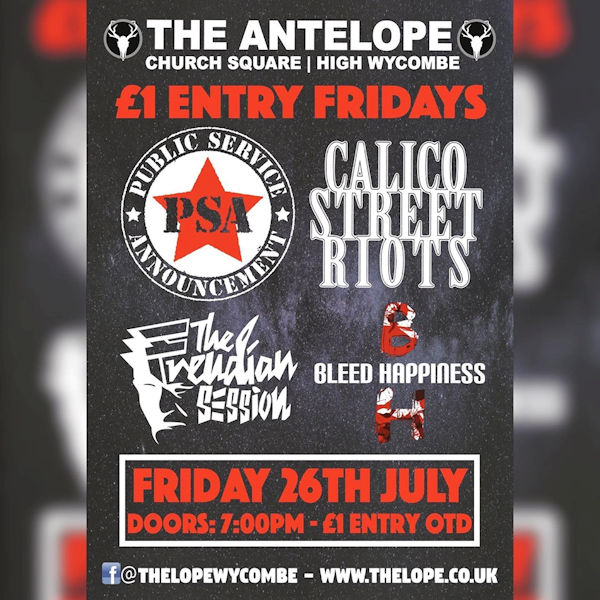 Regular visitors to the this site will be aware of Public Service Announcement. They released their first EP earlier in 2019 and this date will be first of three gigs on consecutive evenings.  They play Holroyd Arms, Guildford on Saturday 27th July 2019 with The Members, while on Sunday 28th July 2019, they make their return to the annual Red Lion festival in Chinnor.
Some brief information on the other bands I found online
Calico Street Riots
Six piece English Folk Punk!
The idea to make a festival band was born whilst at Reading 2008.
Check them out on YouTube – obviously influenced by The Pogues (plus more swearing!)

The Freudian Session
 Four piece Punk/Metal band bringing all the noise and banter to every show they play! Huge influences from the likes of The Wildhearts, Metallica, Rise Against, Therapy?, The Clash, Maximum The Hormone, anything punk or metal related!
YouTube link
https://www.youtube.com/watch?v=wPJPXAm2TJo
Bleed Happiness
New three piece rock band from Wendover, made up of Jack Taylor, Oli Williams and James Langstone.
Check the audio of their debut EP on YouTube
Public Service Announcement
Come Back To Me – live version of a track from their debut EP
Facebook event page
https://www.facebook.com/events/476666583137577/
Venue website