Former members of Basta Roc will take new band Public Service Announcement for a live airing at The Phoenix Bar (Bridge Street, High Wycombe) on Friday 30th June 2017, with support from The SD5.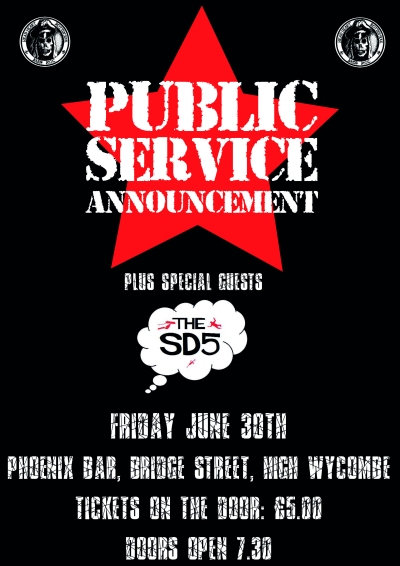 PSA, who include former Basta Roc members Pete Colverd and John Fleming, played a short set at a charity gig in April 2017 in memory of Basta guitarist Gareth Jones.  The band is completed by Al Lane (drums) and Dan Comben (bass).
They say they will be: 'Featuring songs of Basta Roc, stripped down and lovingly restored as well as new compositions and classic songs for your musical pleasure.'
 More info at: https://www.facebook.com/PSAPUNK/
Here's a reminder of the Basta boys playing Billy Bones at Magnolia Park in April 2017.
Support comes from The SD5 – London based and according to their Facebook page, are: 'Purveyors of fine garage rocking psychedelic beat grooves.'
More info at https://thesd5.bandcamp.com/
Entrance to the gig at The Phoenix Bar is £5 on the door.
Facebook event page:
https://en-gb.facebook.com/events/684242595118743/