The 4th annual 'No More Heroes' punk festival takes place in High Wycombe on Saturday 23rd June 2018.  There is a change of venue this year, with the slightly bigger 'Wycombe Arts Centre' in Desborough Road, taking over from The Phoenix Bar in Bridge Street.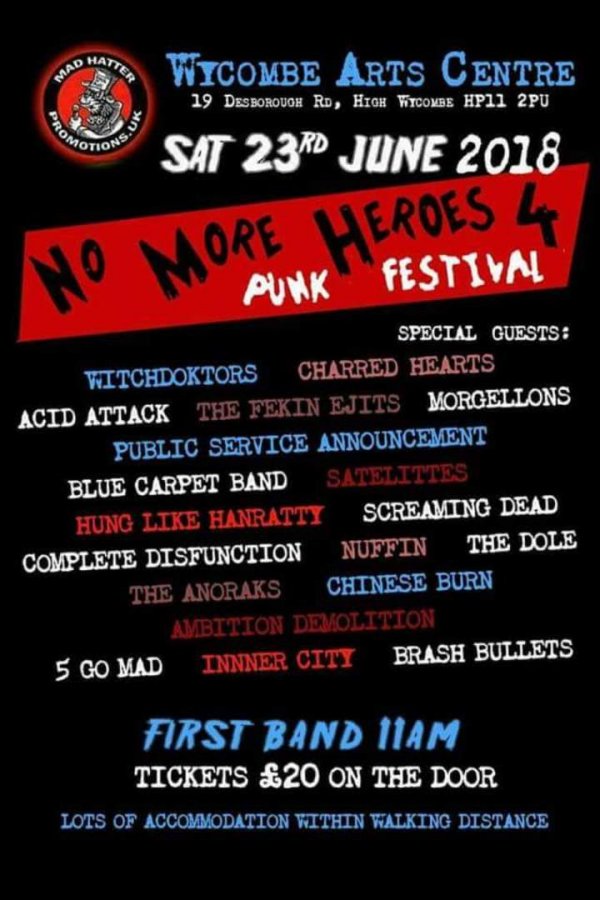 The event kicks-off at 11am and runs right through until midnight, with close to 20 bands expected to take to the stage throughout the day.
Entry is £20, with tickets available in advance or on the door.
The running order is expected to be the following but please check the event links at the foot of this post for the current information.
11-11.30 BRASH BULLETS
 11.40-12.10 INNER CITY
 12.20-12.50 PUBLIC SERVICE ANNOUNCEMENT
 1.00-1.30 AMBITION DEMOLITION
 1.40-2.10 CHINESE BURN
 2.20-2.50 THE ANORAKS
 3.00-3.30 THE DOLE
 3.40-4.10 NUFFIN
 4.20-4.50 COMPLETE DISFUNCTION
 5.00-5.30 SCREAMING DEAD
 5.40-6.10 HUNG LIKE HANRATTY
 6.20-6.50 SATELITTES
 7.00-7.30 BLUE CARPET BAND
 7.40-8.10 THE KULT 45s
 8.20-8.50 MORGELLONS
 9.00-9.30 THE FECKIN EJITS
 9.40-10.20 ACID ATTACK
 10.30-11.10 CHARRED HEARTS
 11.20-12.00 WITCHDOKTORS
Event links
https://www.facebook.com/events/1326673124115911/permalink/1602443129872241/
http://www.arts4every1.com/events/no-more-heroes-punk-festival
PLEASE SUPPPORT LIVE MUSIC IN HIGH WYCOMBE