Local promoter Ron Watts was busy throughout the summer months of 1979 putting on a variety of gigs at both The Nag's Head and The Town Hall in High Wycombe. A flyer I discovered in my own collection reveals some interesting dates during July and August 1979, including a debut for Mod revival band Merton Parkas, a Blues Loft Reunion and 'World Debut' for former Sex Pistols bassist Glen Matlock's band.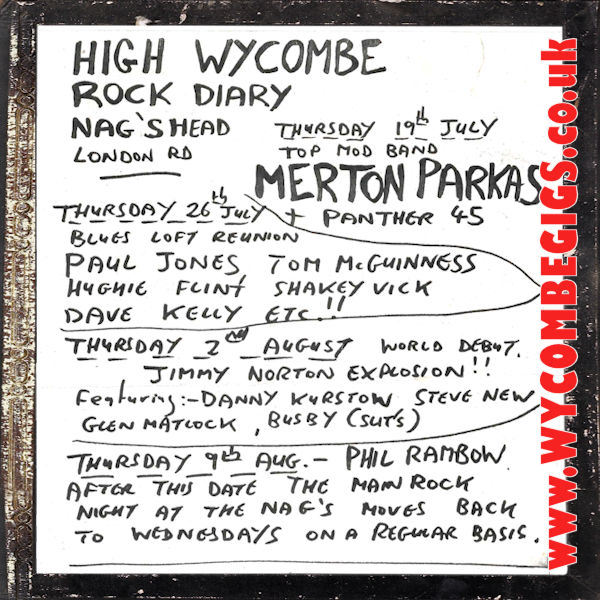 So, a quick skim through the list
Thursday 19th July 1979 – Merton Parkas/Panther 45
I believe this was Watts' first venture into promoting a band from 1979 Mod revival. Curious to see what all the fuss was about, I recall making one of my ever trips to the Nag's Head on a warm evening and being amazed to see at least a dozen scooters parked up along the London Road as punters from their London following made the trip into Buckinghamshire.
The Merton Parkas (formerly The Sneakers) consisted of Mick Talbot (keyboards and vocals), Danny Talbot (guitar and vocals), Neil Hurrell (bass and vocals) and Simon Smith (drums). At 20 years old, Mick Talbot and Simon Smith were the oldest members.
At the time of this gig they had just signed for Beggars Banquet after being recommended by The Lurkers. They would release their debut single, 'You Need Wheels' a few weeks after their appearance at The Nag's Head.
Their set list that evening included the soon to be released single, plus covers, 'Tears of a Clown', 'Stepping Stone' and 'Kids are Alright', plus originals, 'Plastic Smile', 'Give it to me Now', 'Hard Times' and 'I Don't Wanna Know You'.
Thursday 26th July 1979 – Blues Loft Reunion
This gig came just over ten years since Ron Watts had launched his Blues Loft in High Wycombe. According to the flyer, the featured artists were Paul Jones, Tom McGuinness, Hughie Flint, Shakey Vick and Dave Kelly.  I'm pretty sure that Ron himself and the rest of Brewers Droop would have been on stage too.
Thursday 2nd August 1979 – The Jimmy Norton Explosion
This was billed by Watts as a 'World Debut' for a band put together by former Sex Pistols and Rich Kids bassist Glen Matlock.  The Rich Kids had split up at the end of 1978 and Matlock had drafted in Steve New (guitarist formerly of Rock Kids), Danny Kustow (guitarist formerly of Tom Robinson Band) and 'Budgie' (drummer at the time for The Slits).  Watts' hand written flyer misspells the latter as 'Busby'!
After all that explanation, I fairly sure that this gig never took place. They were also booked to appear at The Music Machine in London on 3rd August 1979 but I not sure if that took place either. From what I can make out, after recording a session for John Peel in July 1979, Matlock and New went off to tour with Iggy Pop and the JNE project was put on hold until early 1980 – they definitely appeared at The Nag's Head on 29th February 1980.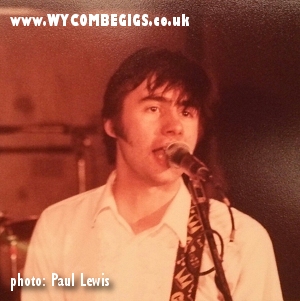 Thursday 9th August 1979 – Phil Rambow
Rambow was a well-respected guitarist who had worked with Brian Eno and Mick Ronson. A quick search of Google reveals he also wrote songs with Kirsty MacColl and created the classic 'classic 'There's A Guy Works Down The Chip Shop Swears He's Elvis'.
References and further reading
https://www.boredteenagers.co.uk/merton_parkas.htm
http://www.philjens.plus.com/rattle/glen_spectres.html
https://www.roughtrade.com/gb/phil-rambow/whatever-happened-to-phil-rambow