January 1967
The live music scene in High Wycombe during 1967 appears to be generally centered around the Town Hall.  But for whatever reason, as the year progressed, other venues appeared eager to grab a piece of the action.  These are some key dates and venues from January 1967: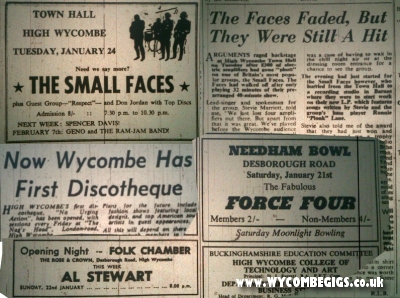 Friday 6th January 1967 – No Urging Action (Disco) – Nag's Head
The Nag's Head in London Road was not a current live music venue back in January 1967 but there were efforts to bring some sort of 'scene' to the East of the Town with the opening of a new Friday Discotheque night.  'No Urging Action' was an '18 and over' event debuting in the first week of January 1967 with a crowd of around 50 turning up.  Organiser was Ian Tilbury, whose plans were said to include fashion shows and top American artists in 'guest appearances'.  Were you one of the Disco goers at The Nag's Head?
 Tuesday 10th January 1967 – Amboy Dukes – Town Hall
A band by the name Amboy Dukes was around in 1967 and included a young Ted Nugent.  They were a US based band.  However, this gig was by the closer to home, mainly Reading based band of the same name.  Admission was 6/- (30p) with Don Jordan playing 'Top Discs' at the regular Tuesday 'Dance Night' at The Town Hall organised by Ron Prior.
Saturday 21st January 1967 – Force Four – Needham's Bowl
Needham's Bowl was on Desborough Road, High Wycombe and on the same site on what would later become the Chiltern Rooms (opened in 1972).  Not much background on Force Four – although they appear to have supported Geno Washington in Dunstable on the Friday evening before they were billed to perform in High Wycombe.
Sunday 22nd January 1967 – Al Stewart – Rose & Crown
This appears to be the debut of what was billed the 'Folk Chamber' at the Desborough Road/Mendy Street pub.  Al Stewart went on to become a renowned artist – best known for his 1976 Year of the Cat, album and single.  Glasgow born Stewart was 21 at the time of this advertised appearance in this small pub in High Wycombe.  Did he really play The Rose & Crown in his early days?
Tuesday 24th January 1967 – Small Faces – Town Hall
The visit of The Small Faces to High Wycombe in January 1967 was quite possibly the highlight of the month for the local gig-goers of the time.  However, technical issues marred the night with The Small Faces forced to abandon their set 30 minutes into their planned 40 minute slot due to £300 worth of their amplifiers going, according to press reports, 'phutt'.
Speaking to the press after the gig. Small Faces front man Steve Marriot said:
"We just lost four amplifiers out there. But apart from that it was great. We've played before the Wycombe audience before and we went down well then, but tonight was good, yes it was really nice".
Directly after the gig The Small Faces went to Barnes where were due to start work on their new LP, with songs written mainly by members Marriot (still a week away from his 20th birthday at time of the gig) and Ronnie 'Plonk' Lane (a couple of months short of his 21st birthday).
At the time of the January 1967 gig The Small Faces had already penned classics including 'All or Nothing', 'Sha-La-La-La-Lee' and 'Whatcha Gonna Do About It'.
Admission was 8/- (40p) with support advertised as Respect.
Saturday 28th January 1967 – Jay Brothers – Needham Bowl
Advertised as 'Cabaret Night' down The Desborough Road venue with entry 2/- (10p) for Members and 4/- (20p) for Non-Members.  The additional tag line of 'Saturday Moonlight Bowling', suggests that the Ten-Pin bowling venue kicked into life after the band had finished?
Tuesday 31st January 1967 – Spencer Davis Group – Town Hall
Once again 8/- would gain you entry to see one of top UK groups of the time.  Spencer Davis Group had been formed in Birmingham in 1963 by Spencer Davis, Steve Winwood and his brother Muff Winwood.  They had signed to Island records in 1964 and at the time of their January 1967 appearance at The Town Hall had just enjoyed enourmous chart success with their single 'Gimme Some Lovin'.  It reached No.2 in the UK charts in November 1966 and had only just dropped out of the Top 50 by the time they took stage at The Town Hall.