The second annual Animals Rock charity event at The Dashwood Arms, Piddington – raising funds for Animal SOS Sri Lanka – takes place from the evening of Friday 3rd May 2019, through to the evening of Sunday 5th May 2019.
The event follows the success of the inaugural event in May 2018.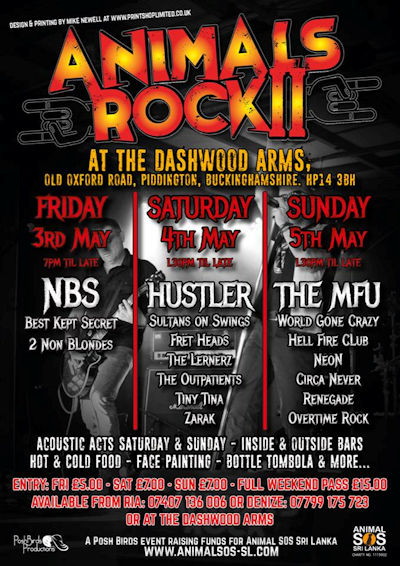 Dates/Times
Friday 3 May 7.30-Midnight – £5
Saturday 4 May 1.30-Midnight – £7
Sunday 5 May 1.30-Midnight – £7
Children (up to 16 years of age) – FREE
Weekend pass also available at £15 direct from the venue if purchase on or before 2nd May 2019.
Expected running order
FRIDAY 4TH MAY
7.30-8.30 – 2NONBLONDES
8.30-9.00 – STEPH WILLIS
9.00-10.00 – BEST KEPT SECRET
9.00-12.00 – NBS
SATURDAY 4TH MAY
1.30-2.30 – ZARAK
2.30-3.00 – DAVE DUNBAR
3.00-4.00 – TINY TINA
4.00-4.30 – VICKY ROY
4.30-5.30 – THE OUTPATIENTS
5.30-6.00 – HIM & SHE
6.00-7.00 – THE LERNERZ
7.00-7.30 – PHIL DAY
7.30-8.30 – FRET HEADS
8.30-9.00 – MOJO
9.00-10.00 – SULTANS ON SWINGS
10.00-12.00 – HUSTLER
SUNDAY 5TH MAY
1.30-2.30 – OVERTIME ROCK
2.30-3.00 – TONY GOFF
3.00-4.00 – RENEGADE
4.00-4.30 – SANDY LENNY
4.30-5.30 – CIRCA NEVER
5.30-6.00 – RUSSELL LEAK
6.00-7.00 – NeoN
7.00-7.30 – TERY CUSTACE
7.30-8.30 – HELL FIRE CLUB
8.30-9.00 – RAFFLE DRAW
9.00-10.00 – WORLD GONE CRAZY
10.00-12.00 – THE MFU
See Animals SOS Facebook page for more details
https://www.facebook.com/165576613502654/photos/a.191294430930872/2299446383448989/?type=3&theater