The Who make their fourth appearance at The Town Hall during a hectic six month period in 1965.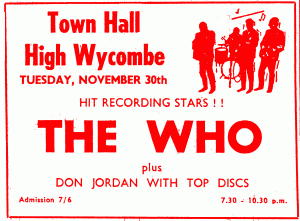 Formed in 1964, the West London based rockers had released their first single, I Can't Explain, in January 1965 and at the time of their November 1965 appearance at The Town Hall, their 'My Generation' single had reached No.2 in the UK Charts. The same titled debut album was soon to be released too.
What would be their final appearance in High Wycombe, took place at the popular 'Tuesday Club' held at The Town Hall. The same venue had hosted The Small Faces the previous month, while December 1965 would see the visits of The Kinks, The Moody Blues and Dave, Dee, Doxy, Beaky, Mick and Tich.  All four gigs would have set you back less than £2!