Friday 20th February 1976 – Sex Pistols support Lord Sutch at Wycombe College
My research for this infamous gig provided much of the inspiration for this website.  An article published on chairboys.co.uk to mark the 40th anniversary included my findings from this chaotic evening.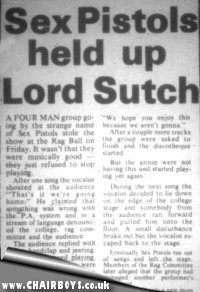 More to follow on the myths surrounding this gig – in the meantime, you can read my original article published in February 2016.
http://www.chairboys.co.uk/history/1976_02_never_mind_the_bb.htm