The Dashfest annual charity music festival takes place from Friday 13th July 2018 to 15th July 2018 at The Dashwood Arms, Piddington.  As usual the event will feature live music acts on the Friday evening, with a full day of bands on the Saturday. The event will conclude with a selection of music acts on the Sunday afternoon and early evening.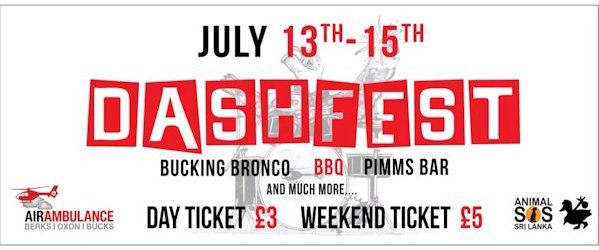 In addition to the bands, there is a variety of other entertainment, including: Bucking Bronco, Bouncy Castle, Face Painter, Slush Machine, Ice Creams, Sweets, Pimms Bar, BBQ/Hog Roast, Vegan and Vegetarian Food.
Day tickets are £3 each, with weekend wristbands available for just £5.
Proceeds are in aid of Berks/Oxon/Bucks Air Ambulance and Animal SOS Sri Lanka.
FRIDAY 13TH JULY
7PM TO 7.50PM THE KULT 45's
8PM TO 9.15PM THE LARGE PORTION…
9.15PM TO 12PM CARTEL
SATURDAY 14TH JULY
1PM TO 1.50 MISS KILL
2PM TO 2.50PM DOCTORS ORDERS
3PM TO 3.50PM TINY TINA
4PM TO 4.50PM RED HERRING
5PM TO 5.50PM BIG AL AND THE BLISTERING BUIKS
6PM TO 6.50PM TONY GOFF AND THE BROKEN COLOURS
7PM TO 7.50PM STRANGE FOLK
8PM TO 8.50PM KONTRABAND
9.15 UNTIL LATE THE WAY BACK
SUNDAY 15TH JULY
12.30 TO 1.15PM THE FANDANGO BROS – ACOUSTIC
1.15 TO 2PM STEVE MCCORMACK
2PM TO 2.50PM THE MOTS
3PM TO 3.50PM THE SKIN AND BLISTER BAND
4PM TO 4.50PM THE MIGHTY TRIPLE O BAND
5PM TO 6PM STEALWORKS
Also keep an eye on the Dashwood Arms facebook page for any changes due to World Cup matches taking place on Saturday and Sunday.
https://www.facebook.com/thedashwood/
PLEASE SUPPORT THE LIVE MUSIC VENUES IN HIGH WYCOMBE