It would be fair to say if it wasn't for Ron Watts, the live music scene in High Wycombe during the late 1960's, through the 1970's and the into the 1980's, would have been a much duller place.
Watts first promoted gigs in High Wycombe in 1968, with some of those early names including: John Lee Hooker, Howlin' Wolf, Jethro Tull, Status Quo, Thin Lizzy and Tyrannosaurus Rex.
Then, having taken a break from promoting gigs in High Wycombe, it was a chance viewing of the Sex Pistols at High Wycombe College in February 1976 that led to him giving them a series of shows at Oxford Street's 100 Club venue.  In September 1976 he would bring the Pistols back to The Nag's Head just a couple of weeks before appeared at the famous 100 Club Punk Festival and less than three months before they hit national notoriety via the 'Bill Grundy' episode.
Watt's would go on to bring the up and coming 'punk' and 'new wave' to High Wycombe during the remainder of the 1970's and early 1980's. The most well-known names include The Stranglers, The Clash, The Damned, The Jam, Generation X, The Jam, Siouxsie and The Banshees, XTC, Elvis Costello, Ian Dury, Tom Robinson Band, The Psychedelic Furs and U2.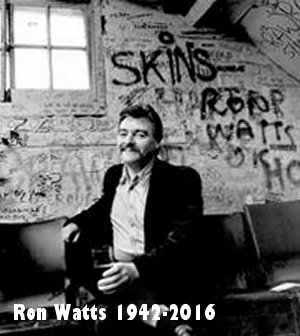 Ron sadly passed away during the initial research for this website and, in the absence of a working version of wycombegigs.co.uk, I wrote an obituary that was published on chairboys.co.uk on 16th July 2016.
I introduced the piece thus:
Watts is best known for his involvement in the rise of the punk scene in 1976 and 1977, promoting gigs at the famous Nag's Head venue in High Wycombe in addition to the legendary 100 Club venue in Oxford Street, London. However, it  would be an insult to his legacy to leave unmentioned his part in bringing top Blues acts to venues in the UK during the late 1960's and beyond, plus his front man role in legendary Cajun Blues band, Brewer's Droop.
You can read the full piece at:
http://www.chairboys.co.uk/history/2016_07_ron_watts_obit.htm
Ron's name will pop up time and time again on this website and it would be great to hear your memories and tributes to the man responsible for so many gigs in High Wycombe, many of which provided the inspiration for future bands to form, or in my case, a leading figure in inspiring the creation of this website.