A three band line-up played The Nag's Head on Friday 8th July 1977 in what is believed to be first publicised all-local 'punk' event in High Wycombe.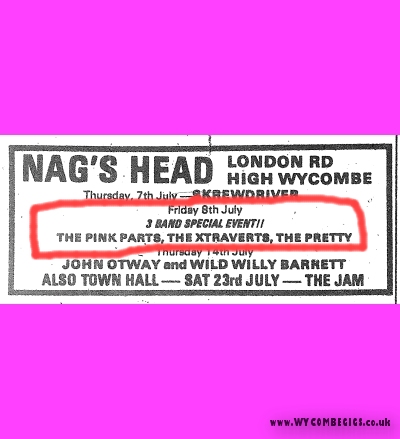 The Pink Parts appear to be a band with both High Wycombe and London connections and origins out of the Art School scene. Known band members include Martin Stone (guitar), Stone's girlfriend Ruth (bass) and Paul Ferguson (drums).  29 year old Stone lived locally in Fingest and was a good friend of promoter Ron Watts.  He originally played with Savoy Brown and in the early 1970's played with The Pink Fairies.  The latter had performed at High Wycombe Town Hall, including a support slot to The Pretty Things in Many 1971.  In the mid 1970's Stone teamed up with Watts to form the shortlived Jive Bombers.  Stone also played briefly with Joe Stummer in the 101ers – a band that had played The Nag's Head in March 1976.
Also connected with the Pink Parts was Stephen Jones.  He is seen dressed in PVC on the left of the picture below (posted by Stephen on his Twitter account).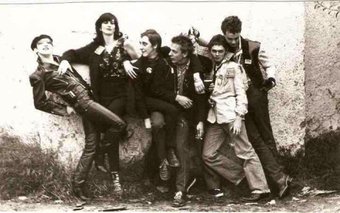 Promoter Ron Watts described Jones as his 'left-hand man' in his autobiography, saying "He kept the local bands from the Wycombe area in order and drove them to gigs that they couldn't get to otherwise."
Jones went on to become a leading hat designer for the likes of Madonna, Kylie Minogue and Mick Jagger.
Watts also recalls The Pink Parts but doesn't associate Jones with the band, although he does recall bassist Ruth being the ex-girlfriend of guitarist Martin Jones, with a later line-up possibly being all-female.  Watts recalled in his autobiography: "Pink Parts weren't particularly good, but the main attraction wasn't the music. They were new waveish and did alright for a while before the novelty wore off. The world wasn't ready for a Thames Valley version of The Runaways."
The Xtraverts were a band with less pedigree but with their roots firmly in High Wycombe and the escalating punk scene in the town.  Lead singer Nigel Martin, just turned 20 at the time of the July 1977 gig, had sowed the seeds for forming a band when he jumped on stage towards the end of a Deathwish gig at Desborough Hall on 4th December 1976.  Perhaps significantly this was just four days after the infamous Bill Grundy/Sex Pistols incident on national TV? A few weeks later in The Coach and Horses pub in High Wycombe High Street, Martin was approached by fellow local punk and guitarist Mark Reilly and drummer Tim Brick, with an idea to form a band of their own.  Between them they came up with the name Xtraverts and eventually drafted in Deathwish guitarist Kris Jozajtis on bass for their initial chaotic live outings.  By the time of the July 1977 'Wycombe Night' at The Nag's Head, Jozajtis had stepped down as bassist – fellow Deathwisher Carlton Mounsher being drafted in following Deathwish's last live outing (a support slot to Generation X in March 1977).
The Pretty had been formed by Kris Jozajtis following the demise of Deathwish.  They initially included Adrian 'Belya' Campbell on vocals, with the 'in demand' Mounsher on bass and Mark White on drums.  Mounsher left briefly to be replaced by former Reerumho and Roohas bassist Mike Edwards but he was later described as 'never really fitting in' and by the time of 'Wycombe Night', it was Mounsher back on the four strings.  The success of the gig can perhaps be gauged by the fact that it was The Pretty's first and only live appearance.  The bulk of the band – minus singer Edwards -would go on to form The Party for gigs later in 1977.
Meanwhile, The Pink Parts would return to The Nag' Head as support for Generation X in August 1977 and would also perform at The Roxy, London the same month.  A performance at Wycombe's Newlands Club in November 1977 appears to coincide with their demise.  Martin Stone died in November 2016 – aged 69.
The Xtraverts quickly became High Wycombe's leading 'punk' band, although a support slot to 999 at The Nag's Head in September 1977 ended in violence and led to a ban of 'punk' gigs at the London Road venue.  They would release a debut single, Blank Generation/A Lad Insane in early 1978. At the time of this post, they had just released their 4th single.
Here's the audio from the 1978 release.
References:
Stephen Jones – https://twitter.com/SJMillinery
Martin Stone – https://en.wikipedia.org/wiki/Martin_Stone_(guitarist)
Xtraverts – http://www.thextraverts.co.uk/
Since this article was first published, local music fan Dave Tapping, dug out his scrapbook from 1977 and sent the cutting below from Sounds magazine.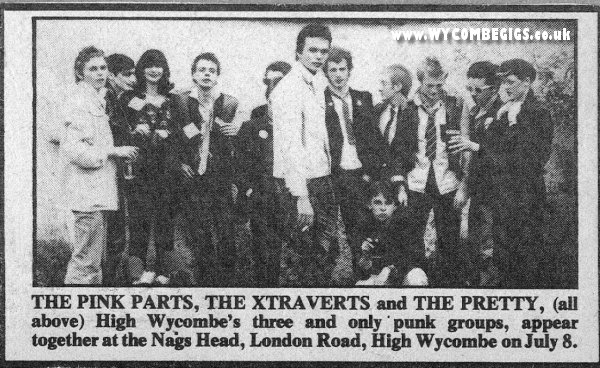 Anybody else out there have memories of this gig, or the history of these early High Wycombe punk bands?