Another great night down The Phoenix Bar, High Wycombe, on Saturday 25th November 2017 when Pussy Cat and The Dirty Johnsons headlined a 'punk' influenced event. Scroll down for two self shot videos from the gig.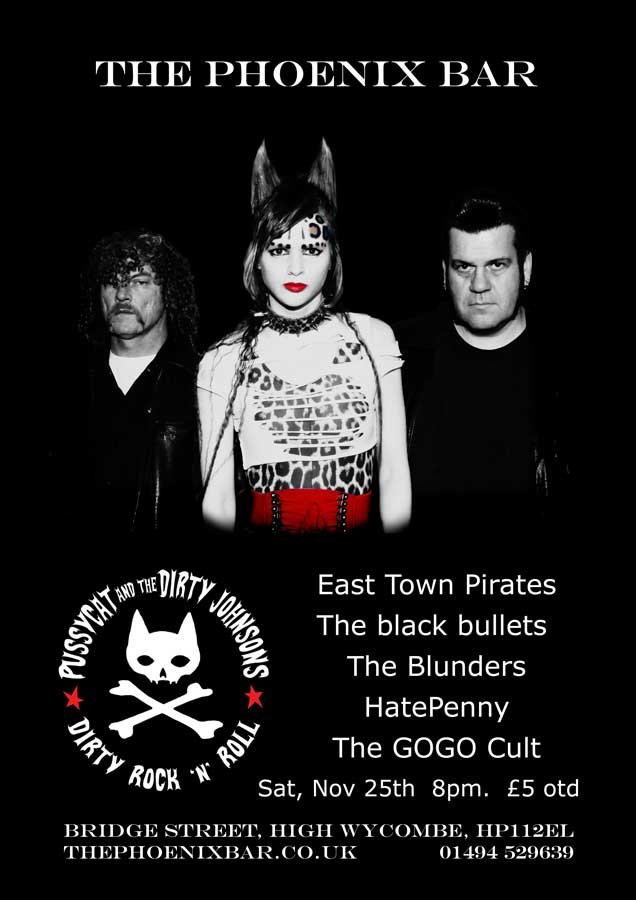 Headliners Pussy Cat and The Dirty Johnsons have been described as 'Punk-Rockabilly-Grunge-Glam rockers', while East Town Pirates describe themselves as a 'voodoo pirate rock and roll band and have also been likened to a cross between The Pogues and Motorhead.
Other acts were: The black bullets, The Blunders, HatePenny and The GOGO Cult.
Venue Home page 
http://www.thephoenixbar.co.uk/
Here are two self shot videos from the gig
Ship Ahoy – East Town Pirates- live at The Phoenix Bar, 25 November 2017
One of the Boys/Hell Bent – Pussycat and The Dirty Johnsons – Live at The Phoenix Bar – 25 November 2017
Please support your local live music venues in High Wycombe