Cherry Red records, announced as new shirt sponsors for Wycombe Wanderers in July 2018, launched a competition shortly afterwards.
Singin' for Wycombe is asking for followers of the Club to record a song for Wycombe Wanderers, upload it to YouTube and/or Soundcloud and share it. The best efforts will be offered the chance to release their track on Cherry Red Records as part of a digital compilation.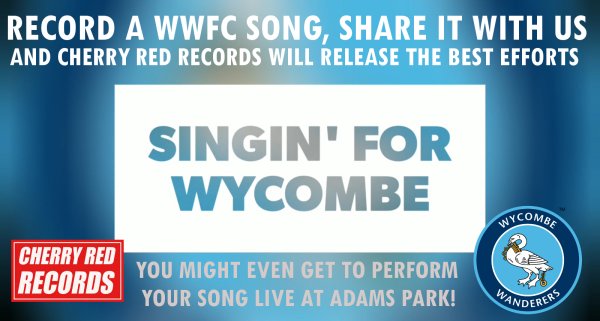 The press release at the launch said: "The football club and record label will listen and select their favourites in December 2018. Those that make the final cut will be compiled in to a digital compilation which will be made available across iTunes/Apple Music, Spotify, Amazon, Google Play, YouTube Music, Deezer and all the other legal digital platforms that Cherry Red distribute music to in early 2019."
The news item also suggests the winner may get the chance to perform the song live at Adams Park.
Links should be emailed to songs@cherryred.co.uk by Friday 30th November 2018.
So there you, dust down those guitars, keyboards and drums, loosen up the vocal chords and belt something out in the name of the famous Wanderers from High Wycombe.
See the following links for more information:
https://www.cherryred.co.uk/singinforwycombe/
https://www.wycombewanderers.co.uk/news/2018/july/cherry-red-records-launch-search-for-a-wycombe-song/