On Friday 1st March 2019 I'm back as a guest on Andy Chalk's Punkarolla radio show on Wycombe Sound.  This time I'm sitting alongside another long-time friend, Martin Percival, talking more about the 40th anniversary of gigs in High Wycombe and reminiscing in particular about an appearance by The Damned at The Town Hall on 18th April 1979 – a gig where the punk originals were supported by a then up and coming punk/reggae group The Ruts and local band The Beez.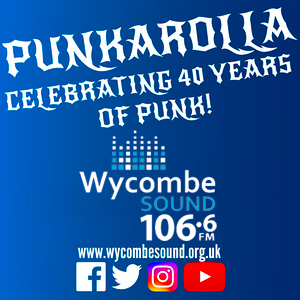 We'll be playing a selection of our Damned favourites from throughout the years, plus tracks from the support acts on the night.  There's also the usual stuff old and new, so please take a listen between 9pm and 11pm on the new monthly (1st Friday of each month) time slot – hosted as usual by Andy.
It is possible to listen live in the High Wycombe area via 106.6 FM, via the internet and radio player.
Shows are also available to 'Listen Again' for four weeks via www.wycombesound.org.uk
The direct link to the Punkarolla 'Listen Again' page is:
http://listenagain.wycombesound.org.uk/index.php/shows/punkarolla/
Shows from the earlier series are also available to listen to via MixCloud
https://www.mixcloud.com/WycombeSound/playlists/punkarolla/
Andy also has a Punkarolla Public Group Facebook Group
https://www.facebook.com/groups/224313594628909/
I'll be posting up more details of The Damned gig from April 1979 in a separate post on or around the 40th anniversary.  That will include set-lists from the all the acts that played that evening, plus, I hope to have some previously un-circulated audio clips too.  In the meantime, an enhanced version of the advert from the Bucks Free Press is included below.