February 1967 saw the gig scene in High Wycombe continue with a string of dates at The Town Hall, plus what appears to be a new venture held at the Royal British Legion building close to the Town centre. These are brief details of gigs that I have traced and backed up by advertising evidence found in the Bucks Free Press.  If you have any further details of these gigs or can add more dates, please get in touch.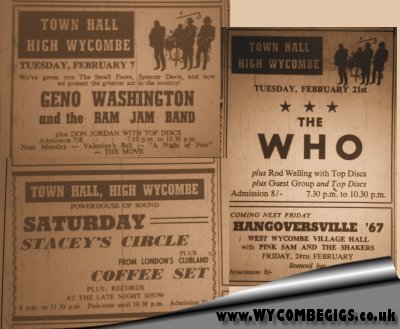 Tuesday 7th February 1967 – Geno Washington – Town Hall
Geno Washington and The Ram Jam Band took to the stage of High Wycombe Town on Tuesday 7th February 1967 for a gig billed in the Bucks Free Press advert by the strapline: "We've given you The Small Faces, Spencer Davis and now we present the greatest act in the country!" At the time of this performance Geno Washington was aged 23 years old, having starting performing with The Ram Jam band in 1965.  Washington was a former US airman based in East Anglia.
Admission was 7 shillings and 6 pence (37 ½ p) with DJ Don Jordan playing 'Top Discs'.
This is Geno and his band performing on TV during the era of their Wycombe appearance
Saturday 11th February 1967 – Tom Jones – Town Hall
See separate post on this unconfirmed performance by the famous Welshman.
Monday 13th February 1967 – The Move – Town Hall
See separate post on this performance.
Thursday 16th February 1967 – Ginger Tom Set – The Stereo (Legion Rooms)
The Stereo was a club night held at The Royal British Legion building opposite Wycombe College. The Ginger Tom Set were described in the gig advert as 'A Strange name but a really good group well worth seeing'.  Admission was 4 shillings and 6 pence (22 ½ p).  At the time of this post I'd found no further background on this band.
Saturday 18th February 1967 – Stacey's Circle – Town Hall
Billed as a 'POWERHOUSE OF SOUND', 5 shillings (25p) would have gained you entry to this Saturday night gig featuring Stacey's Circle supported by Coffee Set (from London's Clubland).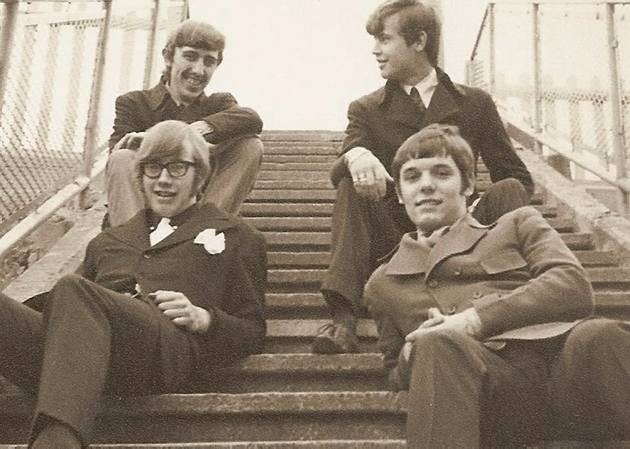 My brief research suggests that Stacey's Circle were a band from the Ilford area of London and consisted of George Stacey Taylor (vocals), John Campling (guitar), Dave Hawkins (bass) and Frank Edwards (drums). Guitarist John 'Ducksy' Reardon also states he was in an earlier version Stacey's Circle through his autobiography 'Birth to Reunion' published in 2015.
Tuesday 21st February 1967 – The Who – Town Hall (CANCELLED)
This was intended to be the long awaited return of The Who to High Wycombe. 8 shillings (40p) was the asking price for entry to the regular Tuesday night slot – with DJ Rod Welling billed set to play 'Top Discs'.  Sadly the gig was cancelled, with organisers placing an advert in the following week's Bucks Free Press stating: 'We apologise for the non-appearance on Tuesday of "THE WHO" for reasons beyond our control. The group will appear at our next dance on MARCH 28th.'

The Who would eventually perform at The Town 25th April 1967.
DJ Rod Welling replaced Don Jordan, who had left High Wycombe for Nottingham.  An article published in the Bucks Free Press during the Spring of 1967 explained the history behind Welling's arrival on the DJ scene.  Welling claimed that his first public performance with pop music was when neighbours called in the police because of the 'racket' from his record player.  The then 20 year old hoped that the Tuesday evening DJ slot at the Town Hall would be the beginning of a 'career on the pop world'.
Friday 24th February 1967 – Pink Sam and The Shakers – West Wycombe Village Hall
This gig was billed as 'HANGOVERSVILLE '67' in the small advert carried in the Bucks Free Press. A quick search on the internet at the time this article was published, reveals that well know High Wycombe musician Steve Darrington was a piano player with Pink Sam and The Shakers.
Admission was 5 shillings (25p).
Saturday 25th February 1967 – Growth – Town Hall
Midland based band Growth appeared at The Town Hall on Saturday 25th February 1967 with support from ;London, New Faces, Great Sound, Derek Savage Foundation.  Admission was 5 shillings (25p).  At the time of this post I'd not found any details of Growth but The Derek Savage Foundation released a single on CBS during 1967
Breakin' Through – Derek Savage Foundation – 1967 single release
References:
Stacey's Circle – Where are they now?
http://www.ilfordrecorder.co.uk/entertainment/music/stacey-s-circle-where-are-they-now-1-713463
Steve Darrington
http://www.stevedarrington.com/music.htm
Pink Sam and The Shakers