County Durham's favourite punk band, Penetration, played a headline slot at High Wycombe Town Hall on Friday 2nd June 1978.  Their appearance was during a break from their support slot on a national tour with Buzzcocks.  Support for Penetration at The Town Hall was originally billed as London based Reggae Regulars but was changed closer to the date of the gig to a selection of more local bands.  Although not particularly well attended, the evening was a chance to catch a band that were gaining ever increasing positive reviews and attention through the national music press.
Penetration had formed towards the tail end of 1976 with a line-up of Pauline Murray (vocals), Robert Blamire (bass), Gary Smallman (drums,) and Gary Chaplin (guitar).  The band was named after a Stooges' song.  They released their first single, 'Don't Dictate' in November 1977 on Virgin Records and the follow-up, 'Firing Squad' was released the month before their visit to High Wycombe.
Their tour with Buzzcocks had seen them take in another date in Buckinghamshire – Saturday 6th May 1978 seeing them support Manchester's finest punk export at Aylesbury Friars.  However, the High Wycombe date was a rare chance for Penetration to headline at a decent sized venue outside of a major city.
By the time of their Town Hall appearance, original guitarist Gary Chaplin had left the band – departing in March 1978 and being replaced by Penetration fanatic, 19 year old Neale Floyd. Chaplin had written the entire band's music to date, with 20 year old Patti Smith fan, Murray providing the lyrics.  During my research for this article, I found a Sounds interview from the 27 May 1978 issue. It reveals that Robert Blamire had just 'discovered' his first song – saying: "I came up with the bassline at a soundcheck." Pauline Murray added that the song proved to be an 'inspiration' and she eventually added lyrics, including the following:
Caught up in the scheme/Mixed up in a moving dream
Music in the motion/Rhythm just repeat, repeat
Echo multiplies and waves of sound are lost in space/Motion in the wheels
And pulling all the strings
The song would become 'Movement' and get an airing at High Wycombe Town Hall and in Phil Sutcliffe's Sounds article, the journalist states: "'Movement' is probably the crucial song in Penetration's development, the convincing assertion that they are far more than punk buzzsaw merchants." He added: "The vocal and and words feel just right with Pauline embodying actual power and potential rather than the impotent, straight-jacketed aggression which characterised early punk. This is the mood of '78 (I hope), action instead of self-pity".
I'm grateful again to my long-time friend Buzz who not only attended the gig but also wrote his immediate thoughts in his 1978 diary. The listings for this gig in the music press had the support line-up down as The Ventilators, Vice Creams and The Yonkers.  However Buzz confirms via his diary that the latter two bands didn't play and were replaced by The Mystery Girls. A band of this name had been due to play at The Newlands Club in October 1977 but they never appeared.  I assume they were a band from the High Wycombe area? I have no more information at this stage, so if you are able to add any background, please get in touch.
Meanwhile, The Ventilators were a High Wycombe based band consisting of far more familiar faces at the time.  They were Kris Jozajtis (guitar and vocals), Kevin Smith (guitar and vocals), Mark White (drums) and Carlton Mounsher (bass).  Jozatjis, White and Mounsher had originally played together during the latter months of 1976 and early 1977 in Deathwish.  Later in 1977 they regenerated into The Pretty and then The Party.  Buzz recalls that the trio were still at school at the time of the Penetration gig in March 1978 and their new band were introduced by promoter Ron Watts before coming on stage as: 'one of the best bands to come from Wycombe for years.'
Buzz's diary recalls the performance of The Ventilators as 'excellent' but also commented that he was, "dismayed by the astonishingly small audience".  He added: "By the time Penetration started, the audience was still smaller than the group deserved but at least everyone came to the front of the stage and thus created a reasonable mass of people."
The small audience can be attributed to a number of factors, including the chaotic and violent scenes at the previous Town Hall gig – the 28 April 1978 appearance by Siouxsie and The Banshees – an evening where the moronic actions of those playing up to the stereotypical 'punk' and 'skinhead' factions, ruined the enjoyment for the vast majority who had come along to simply enjoy the music. In an attempt to try a fool the 'thickos' (as described by gig promoters of the time), details of up and coming concerts were kept low-key. Outcome, the 'thickos' struggled to figure out when and where the gigs were. While 'music-lovers' (i.e. those who could read), turned up as normal.  Result, smaller audience and no trouble but bands and promoters were left wondering whether it was all worth the bother.
My friend Buzz can thankfully be included within the 'music lovers' group and commenting on the sounds he heard that evening, he wrote in his diary: "Musically, Penetration were very good – though they seemed to have surprisingly little equipment. Also, the three blokes had very little stage presence, but this was compensated by Pauline, who was excellent.  Despite demanding a second encore we only got one."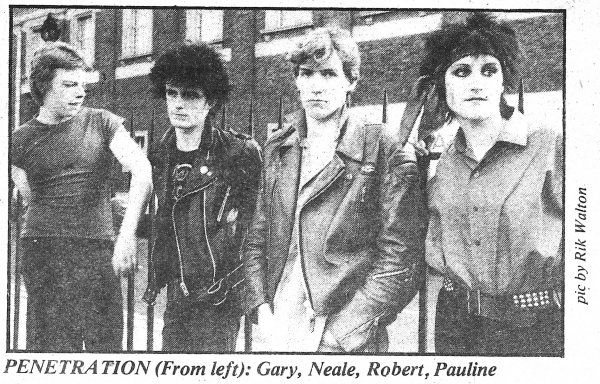 Songs played by Penetration on that evening on June 1978 would have most likely been drawn from the following:
Race Against Time
Money Talks
Never, Never
Don't Dictate
Firing Squad
Movement
Life's a Gamble
Future Daze
Stone Heroes
Silent Community
Lovers of Outrage
Vision
Nostalgia (Buzzcocks cover)
Free Money (Patti Smith cover)
VIP
Silent Community
They would recruit an additional guitarist in July 1978 when Fred Purser joined. A first John Peel session was recorded the same month and in October 1978 they released their debut album, 'Moving Targets'.  A headline performance at Aylesbury Friars followed in November 1978 and a second album, 'Coming Up For Air', was released in September 1979.  They split-up the following month to concentrate on separate projects.  However, in 2001 they reformed with original members Pauline Murray and Robert Blamire.  They were later joined by former Buzzcocks drummer John Maher.
For your listening and viewing pleasure
Don't Dictate – Penetration – live Manchester – August 1977
Note classic example of 'Thicko' being dealt with by 'Music Lovers' at around 1:20.
Firing Squad – Penetration – audio of single – released May 1978
Life's A Gamble – Penetration – live Reading Festival – August 1978
References: