A fairly elaborate folder out poster/flyer, from my own collection, is the only evidence I have of a gig by Uncle Llama at High Wycombe Town Hall on Saturday 12th May 1979.  The poster folds-out to an advert for the gig, while on the reverse there are details of the band line-up and for some bizarre reason, a food recipe!  My best guess, based on the photos of the band on the reverse of the poster, are they fell into the 'prog rock' category.  I'm fairly certain I would have picked up the poster, either from Scorpion or Venus record shops in High Wycombe.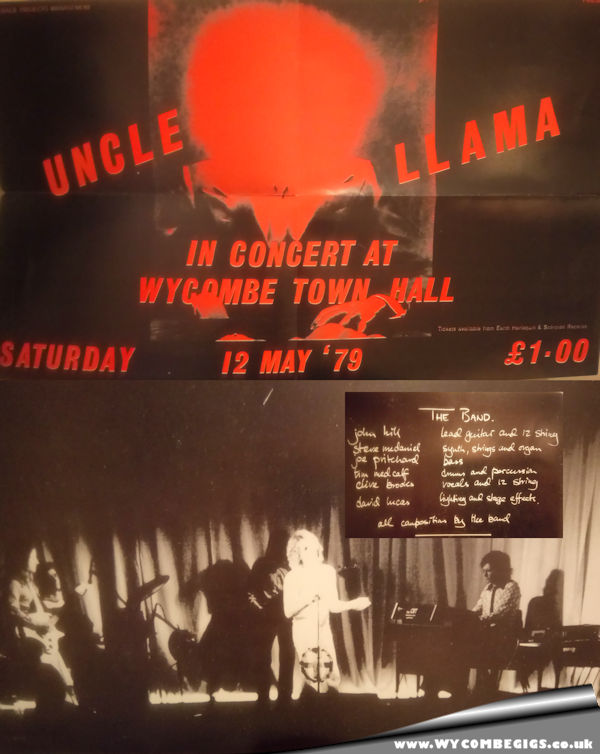 For the record and search engine recognition, the line-up quoted was John Hill (lead guitar and 12 string), Steve McDaniel (synth, string and organ), Joe Pritchard (bass), Tim Medcalf (drums and percussion) and Clive Brooks (vocals and 12 string).
The only online reference to Uncle Llama I could find at the time of this post was a comment by Andy Glass of Buckinghamshire based 'prog rock' band Solistice on www.aylesburyfriars.co.uk. It was in relation to their gig at Aylesbury Friars in 1983, where Glass said: "We also had a great time playing with Marrillion and Uncle Llama (whose keyboard player Steve McDaniel is now a member of Solstice)."
If nothing else, evidence of this gig, re-affirms that gigs in High Wycombe during 1979 were not limited to 'punk' and 'new-wave' acts. Indeed, the ever changing face of music at the time of this gig had seen the first release by ska band, The Specials – their 'Gangsters' single being released on 4th May 1979 on the Two-Tone record label.  Meanwhile, a month or so later, a Mod revival would begin with the likes of Merton Parkas, Chords, Purple Hearts and Secret Affair all enjoying a degree of chart success.  The latter revival had initially been sparked by The Jam but more specifically by the filming of 'Quadrophonia' and its cinema release later in 1979.  The differing styles of music and the sometimes obsessive tribalism (often media fuelled) connected with these 'scenes' did not always make gig going a pleasant experience, especially where promoters attempted a mix of bands.
References and further reading
Solistice
https://www.aylesburyfriars.co.uk/solstice83.html
http://www.solsticewebsite.com/
.