In this article we fondly remember Pete Shelley, founder member of 'punk' band Buzzcocks, who died on 6th December 2018 at the age of 63.  Shelley's legacy includes a memorable list of classic pop songs, as well as his part in evolving the 'punk' music around his home-land of Manchester.  As a 20-year-old he travelled with two friends to see a Sex Pistols gig at High Wycombe College.  What they saw that evening provided the catalyst for what would become two iconic gigs at Manchester's Lesser Free Trade Hall in June and July 1976 and pave the way for the likes of Factory Records, Joy Division, The Fall, The Smiths and of course Buzzcocks, to help shape the future of British music.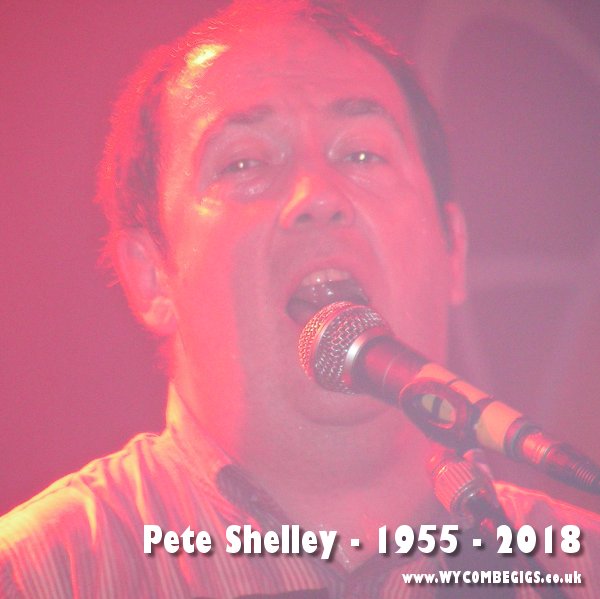 Shelley (real name Pete McNeish) had tentatively formed a band in late 1975 with 23-year-old fellow Bolton student Howard Trafford (later to become Howard Devoto).  On Wednesday 18th February 1976 they saw a first ever live review of a Sex Pistols gig in the New Musical Express and it inspired them to travel to London to track down the Pistols' next gig.
Hence, with the help of a borrowed car, the pair, plus to-be band Manager Richard Boon, would travel the 180 miles south and learn that the Sex Pistols were due to play support to Lord Sutch in High Wycombe at the Buckinghamshire College of Further Education on Friday 20th February 1976.
It was also while they were down south that they would pick up a copy of Time Out magazine where the headline for the review of TV programme Rock Follies, 'FEELING A BUZZ, COCKS', gave them the idea for the name for their yet to be seen band –.  After seeing the Pistols in High Wycombe they would return to Manchester to form Buzzcocks and promote the famous gigs at The Lesser Free Trade Hall.
Buzzcocks would play one of their first ever gigs at the latter of these two dates.  Devoto took on lead vocals, while Shelley played guitar, aided by Steve Diggle on bass and John Maher on drums.  In January 1977 they would release their debut EP, 'Spiral Scratch', on their self-funded New Hormones label – one of the first truly independent record releases in the UK.   The EP included the now iconic 'Boredom' but the other three tracks, 'Breakdown', Time's Up' and 'Friends of Mine' had the same fresh sound and catch riffs.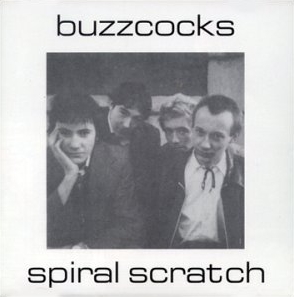 soon after the release of 'Spiral Scratch', leaving founder member Shelley with decisions to make.  Rather than recruit a new singer, Shelley bravely took on the front man role himself and the distinctive Buzzcocks sound was cemented with Steve Diggle moving to second guitar and Steve Garvey eventually becoming the permanent bass player.
With song-writing duties firmly on his shoulders, Shelley developed a way with lyrics that was virtually unique amongst his punk counterparts.  Back in those formative years of punk rock, rather than tap into what was fast becoming clichéd lyrics referencing such topics as hate, war, crime, anarchy and violence, Shelley wasn't afraid to mention love and write songs that included backing vocals of grown-men going 'ooh, ooh'.
Also, unlike some of the other early London 'punk' bands who morphed out of the 'pub-rock' scene, Buzzcocks genuinely struggled to play their instruments during their early outings on the live circuit.  Their early gigs would see the band muddling their way through primitive incarnations of their hits in the making – Shelley, in particular, with his sawn-off cheap guitar.  However, the sound quickly developed into something unique and one that was enhanced to a new level in the studio.
Buzzcocks would eventually sign for United Artists in August 1977 – releasing their debut album, Another Music in a Different Kitchen in March 1978 – their rise to success would be fuelled by a series of consecutive pure punk pop singles – 'Orgasm Addict', 'What Do I Get?', 'I Don't' Mind', 'Love You More', 'Ever Fallen in Love (With Someone You Shouldn't've Fallen in Love With)', 'Promises', 'Everybody's Happy Nowadays', the list goes on and on.
It is relatively sad to look back to see that while many of the other original iconic British 'punk' bands played High Wycombe – including, Sex Pistols, Damned, Clash, Stranglers, Jam, Siouxsie and The Banshees and Generation X – Buzzcocks were never to perform on a High Wycombe stage – perhaps they weren't 'punk' enough in the eyes of the promoters of the time?  The nearest they came were appearances at Aylesbury Friars – first on 6th May 1978 and then on 28th March 1979.
It was at the latter of these two appearances, while still at school, that I was lucky enough to see them for the first time.  I'd been captivated since seeing their Top of the Pops appearance of 'I Don't Mind' in April 1978.  I remember being amazed that it was possible to write a song that included the lyric 'pathetic clown'.  A couple of months later I heard their follow-up single 'Love You More' for the first time – lasting less than 2 minutes, I had to hear it again as soon as possible – hence a trip to town to buy the single in, by this time, its easily recognisable Buzzcocks style graphics.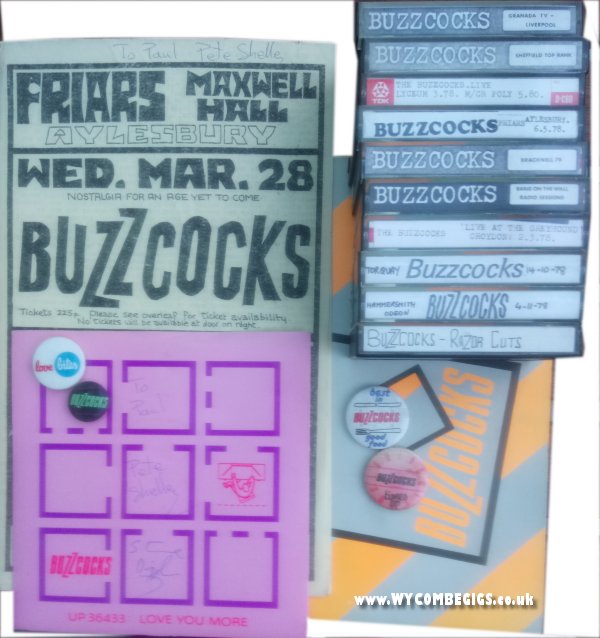 I took the cover to the Friars gig in March 1979 in the hope of an autograph. At the end of the gig those with similar thoughts patiently waited to the left-hand side of the stage for the band to return.  There was not much of a delay before Pete Shelley and fellow band member Steve Diggle emerged and happily signed autographs and chatted with their fans.  At this point some random meathead security man decided he wanted to clear the hall and claimed the band had 'gone home' and there was no point in waiting.  At which point Pete Shelley said in his distinctive high-pitched voice, 'I'm still here!'.  The intellectually challenged security man then repeated his claim that the band had 'gone home'.  Shelley responded with a slightly louder, 'I'm still here!'  I can still hear his voice in my head saying those words.
In my youthful craze to hear more, I began accumulating live and early demo recordings of the band and soon discovered that Shelley's pop songs were not limited to singles, or just three-minute songs. 'Fast Cars', 'Moving Away From The Pulsebeat', 'Fiction Romance', 'E.S.P.', 'I Believe', to name just four.
The band split in 1981 leaving a hole for many of their followers.  The records and tapes were stored away and we all moved on (for a while).  Then in 1989 they re-formed and we were reminded what an incredible back catalogue of songs they could call on.  The live shows were more powerful than ever.  They recorded new music and also gigged until the point of Pete's death and had arranged a 40 year anniversary gig at The Albert Hall in June 2019.  I'd already got tickets and was in the process of going through the Buzzcocks archives when the tragic news arrived.
'Oh Sh*t!' was my one of my first reactions on the evening of Thursday 6th December 2018.  Shelley had a song title for almost every emotion and in this case, the 'B' side of the 1977 Shelley penned classic 'What Do I Get?', seemed the most apt.
If by chance any family or friends of Pete read this, I send them my sincere best wishes and thanks for Pete's life.
Love You More – from Paul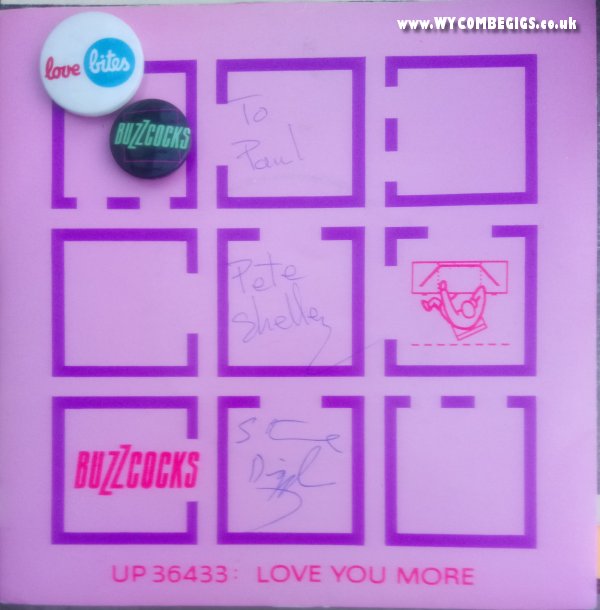 For your listening and viewing pleasure
Breakdown – Buzzcocks – Manchester Lesser Free Trade Hall – July 1976

I Swear I Was There – Granada TV documentary 2001
Listen from 3:16 for Devotto and Shelley recalling the trip down south in February 1976

Buzzcocks in their own words – interview at British Library – 9 June 2016
Listen from 13:50 for comments from Shelley and Boon about Sex Pistols gig at High Wycombe February 1976

I Don't Mind – Buzzcocks – Oxford Zodiac – March 2006 – first published December 2018