Four years before Howard Jones would make his breakthrough in the UK charts with his synth based pop, his three younger brothers had formed a band and began gigging in the High Wycombe area.  Their first outings came under the name of After Science, with an appearance at The Nag's Head on Wednesday 20th June 1979 being one of their first ventures.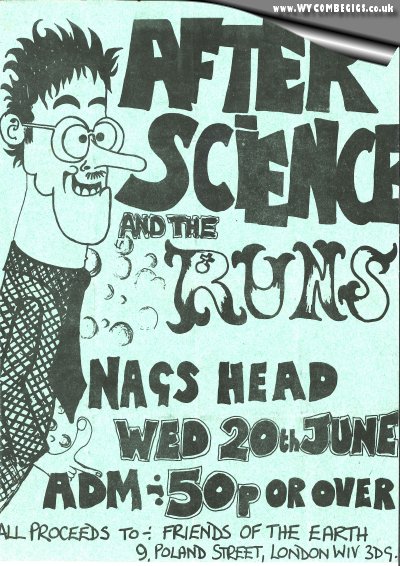 Brothers Roy Jones (20, vocals), Martin Jones (21, guitar) and Paul Jones (17, drums), were joined by friend Majid Ahmed (19, bass) for the gig billed to be in aid of Friends of the Earth.  The self-made flyer was the only form of advertising for the gig but that and word of mouth amongst their music loving friends drew a decent crowd to the London Road venue.
I'm grateful for Roy Jones confirming, shortly before this article was published, that he had previously gained experience playing with local band 'prog rock' band Beowulf, which featured Sabir Ahmed (brother of Majid on bass), plus High Wycombe Royal Grammar classmate Paul Ferguson on drums.  Ferguson went on to perform with Pink Parts during the 1977 'punk' explosion.
By 1979, the 'post-punk' scene was in full swing and Ferguson had teamed up with a fledgling West London based Killing Joke.  Meanwhile, Roy had begun collaborating with his younger brothers – all boasting natural music talent – and bringing a relatively fresh sound to the local scene and one that was in stark contrast to the bands harking back to the 'full on' punk days of 1976 and 1977.
Drawing influences from the likes of XTC, Joe Jackson, Elvis Costello, Talking Head and Public Image Limited; After Science quickly built up a local following playing the smaller local venues but seemed to struggle to make the step into the larger venues.
Later in 1979 they would change the band name to The Jones Boys and start to record tracks at The Boiler House studios in High Wycombe (Sands) along with engineer Derek Timms.  By the end of 1979 they had built up enough material for an album and were gaining interest from record companies.
Roy Jones commented: "We used to rehearse two nights a week for four hours in the evenings after work. Then we used to play live in local venues like The Nag's Head in High Wycombe. We even got record company interest from CBS who sent an A&R man down to see us play live."
Roy also recalls that during one of their Nag's Head appearances in 1979 brother Howard would join the group on stage.  It would be the only time that all four brothers ever played live together before an audience.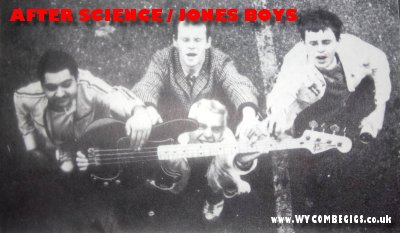 In 2014 Roy Jones would re-visit the tracks recorded at The Boiler House and issue a retrospectively titled album, 'Endless Waiting Game', via download and streaming platforms.
The tracks featured were:
Con 79
Endless Waiting Game
Talking
Goodtime Music
Disco-O
It's Science
Falling Apart
Television Hum (featuring Paul Ferguson)
Crazy Rhythm
Chinese Takeaway Experiment
Visit to Earth
Yes No Running
The tracks were essentially the material performed live by After Science and The Jones Boys up until early 1980, when the chaotic events at a planned support slot for Killing Joke and Joy Division at The Town Hall, High Wycombe provided the catalyst to move to London and make another name change, this time to Red Beat – and finally a breakthrough to play the bigger stages in London and beyond.
For your listening and viewing pleasure
Jones Boys/Red Beat – Endless Waiting Game – 1979 remastered in 2014 by Roy Jones
References and further reading:
https://www.facebook.com/RedBeatWorldwide/
https://twitter.com/roybakerjones