999 returned to High Wycombe Town Hall on 20th December 1978 for their second appearance of the year.  The London based 'punk' band had enjoyed a successful show at the Town just over two months previous and promoter Ron Watts was quick to bring them back.
Support came from Nigel Martin's Mirage, a spin-off band from The Xtraverts who had split-up earlier in 1978.  A late addition to the support line-up was Pinpoint.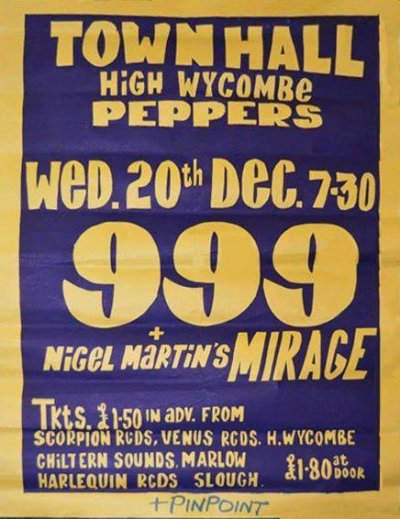 Pinpoint were a band originally formed in the Winter of 1977 when Arturo Bassick left The Lurkers.  The first line-up included Dave Allen on bass and Paul Bellewithe on drums.  Bellewithe had been replaced by Hugh Griffiths by the time of the Town Hall gig in December 1978.
They would go on to release three singles and one album (mid 1980), produced by Martin Rushent.  They split shortly after the album was released.  Bassist Dave Allen went on to become Rushent's engineer and worked on the 'Dare' album by Human League.  Apparently Human League's Phil Oakey had been impressed with Rushent's production of 999's 'Separates' album released earlier in 1978.  Rushent was moving more into electronic music and had set-up his Genetic Studios at this home in Streatley.  The studios were used by Midge Ure and Rusty Egan in their post-Rich Kids days to record the debut album by Visage.  Meanwhile, Bassick was less impressed with Rushent's work and blamed the album production as a reason for the band to split.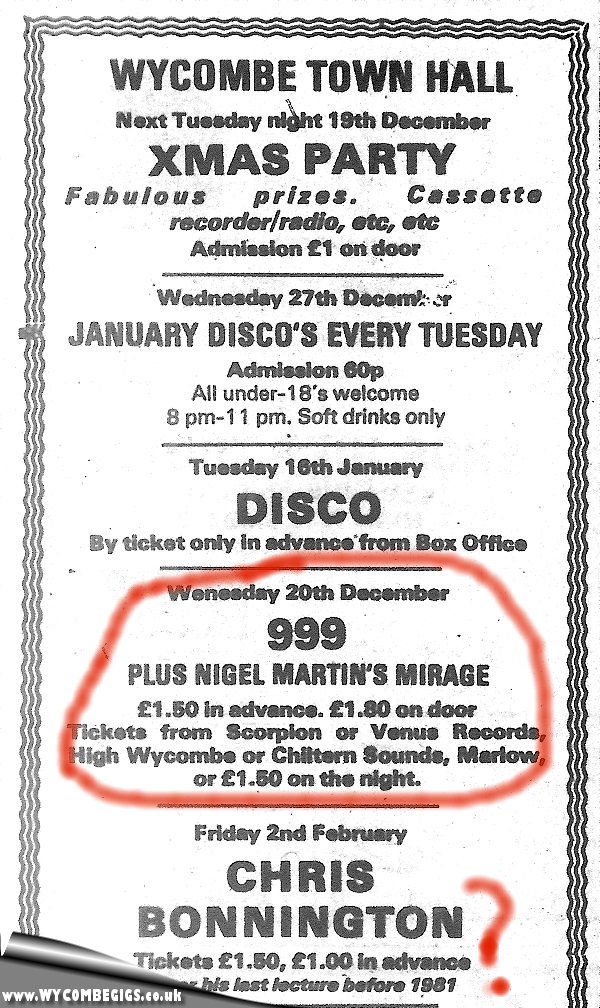 Nigel Martin's Mirage were essentially the latest incarnation of High Wycombe punk band, The Xtraverts.  Lead singer Nigel Martin had been inspired to form The Xtraverts in post-Bill Grundy December 1976 and played their first live outings in the first-half of 1977.  They had history with 999 having supported the London band at The Nag's Head in September 1977 – violence at that gig led to a ban of 'punk' at The Nag's Head.  The Xtraverts recorded their first single in late 1977 and 'Blank Generation' coupled with 'A Lad Insane' was released in January 1978 on Spike records.  They gigged way their way around the London circuit but split mid-way through 1978.
Headliners 999 had played at High Wycombe Town on 4th October 1978 in support of their 'Separates' long-player and new single 'Homicide' the popularity of that gig was a major factor in their return less than three months later.
For your listening and viewing pleasure
Homicide – 999 – Old Grey Whistle Test – BBC TV December 1978