The UK Subs made their second High Wycombe appearance on Wednesday 27th June 1979 with a Ron Watts promoted show at the Town Hall.  Local band The Ladykillers were support on an evening where crowd violence caused a halt to proceedings.
The Subs had played to a small audience at the local SU Bar on 2nd February 1979 but in the intervening months they had signed a record deal with GEM records and their increased media prominence had drawn a decent crowd to the town centre venue –albeit including a small minority whose fighting threatened to call a premature end to the evening.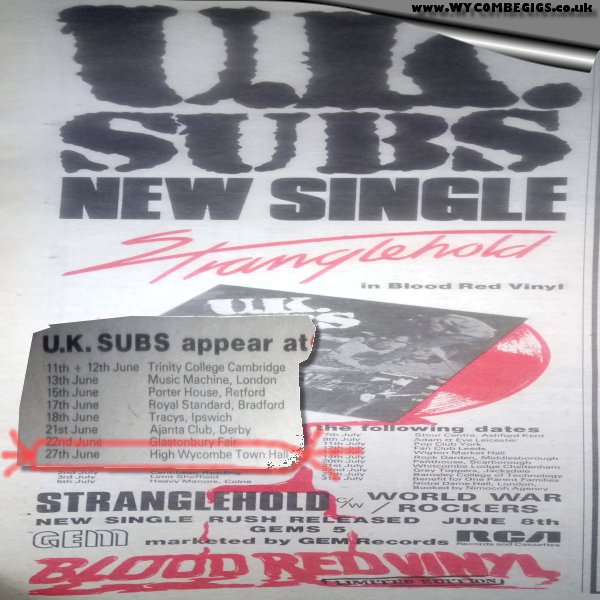 Support act The Ladykillers had made their live debut earlier in 1979 – impressing a local crowd as support to XTC at the Town Hall on 6th May 1979.  Close to two months later they had a few new songs to their set, including a cover a Tamla original 'Money' but made more famous by The Beatles in 1963 and then a few weeks after this gig, by The Flying Lizards.
Ladykillers setlist for the support slot with The UK Subs included the following:
If It Happened Tomorrow
Fear of the Night
Bad Guys
Mother Hates Me Hair
Girl Talk
Money (Bradford and Gordy cover)
White Boys, Making Noise
Under The Skin
The UK Subs' return to High Wycombe was part of a lengthy tour to promote their new single' Stranglehold'.  The tour would stretch into July and include a prestigious appearance at London's Lyceum Ballroom – a venue that was not afraid to promote a diverse range of acts.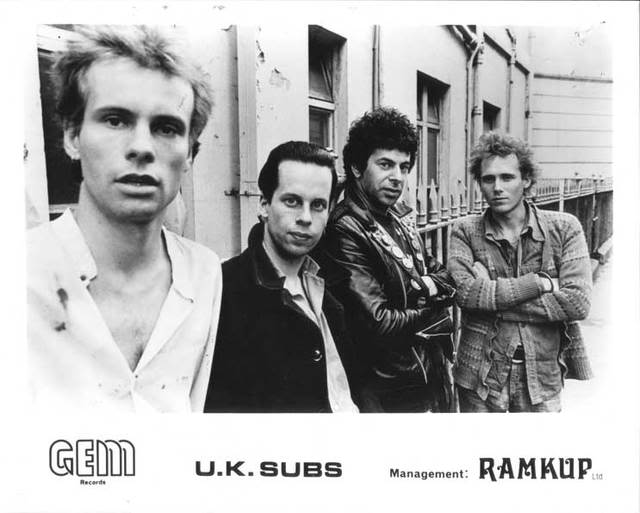 Music paper reviews of their gigs around the time of their Town Hall jaunt already had them pigeon-holed as 'punk' revivalists.
Robbi Millar writing in Sounds about their gig at The Music Machine on 15 June 1979, said: "I'm not sure how long the UK Subs are going to be able to carry on with their present formula but I hope they never mellow.  Right now they've got a certain stranglehold on their rowdy band of merry men and bootgirls, so let's pray that possible chart success doesn't change them.  Imagine the Subs on Top of the Pops!"
Just under two weeks previous they had supported Iggy Pop at the Hammersmith Odeon.  Chris Bohn, writing in Melody Maker reported much travelled 35-year-old UK Subs lead singer Charlie Harper saying to the crowd:
"It took them 10 years to pick up on Iggy Pop, didn't it?  Some people say we live back in 1977 but we ain't going to change our attitudes because of fashion."
Bohn added himself; "Thus the first punk revival band thrashed their way through amusingly through a catalogue of earnest protest in speedily proficient HM punk style, projecting to he back of the hall where their ardently tribal admirers gathered."
Bassist Paul Slack was quick to offer his views on the revival tag.  Speaking to Sounds a week or so later, he said:
"People call us a punk revival band, sort of all zips and no sense, but that's boll*cks because punk hasn't died.  It might not be trendy now but it's still there. It's gone underground."
Guitarist Nick Garratt added:
"Punk music is last NEW thing and it's still growing and improving. I don't see why it shouldn't go on for years yet, do you?".
The UK Subs also made their feelings know about the old school of rock when they pulled out of their 22nd June 1979 slot at Glastonbury Fayre (later to become Glastonbury Festival).  Fifteen years before the cameras turned up at Worthy Farm, this was mainly a pilgrimage for 'hippies' and probably not a safe place for the relative youthfulness of 'punks.
Having survived not going to Glastonbury, a day before their appearance in High Wycombe, UK Subs made journalist Robbi Millar's dream come true when they recorded their debut appearance for BBC's Top of the Pops.  Peter Powell introduced their 'Stranglehold' single on a show that saw Tubeway Army top the charts with 'Are Friends Electric?'
But their visit to the Town Hall the following evening was a far cry from the BBC studios.  I attended this gig as a schoolboy, along with several other class mates, all interested in seeing a 'punk' band in action.  It proved an enlightening evening and a rough recording I made of the gig has helped me piece together the chaos of the night.
35-year-old lead singer Charlie Harper took the stage revealing that the band had: 'just been through a really harrowing experience' before shouting to those still in the bar to come out and 'get the beer over here'.
The set list mainly drew from what would become their debut album 'Another Kind of Blues' – recorded in London in the month leading up to the High Wycombe gig and eventually released in September 1979.
The Subs had crashed through more a dozen songs in the opening 25 minutes before fighting broke out amongst a small number of people in the centre of the Town Hall floor.  Charlie Harper was not impressed, shouting to the punters:
"Are we are punks here, or what?  We've had enough people picking on us outside without f**king fighting amongst ourselves!  We've come here to have a bit of fun from the trials and turmoil's of today."
Violence had marred a few previous Town Hall gigs during the 1977/78 'punk' boom but seemed to have quelled into 1979.  However, the danger signs were following an outbreak of crowd mayhem at the previous 'punk' gig at The Town Hall when followers of local band 'The Xtraverts' chanted the group's name during song breaks in The Lurkers headline set.
There were subdued chants of 'Xtraverts, Xtraverts' again as the fighting died down during the UK Subs set, with guitarist Nick Garratt joking "OK, you can stop fighting now because I've changed my string".  However, it had the reverse effect as a far more intense brawl started, prompting promoter Ron Watts to come on to the stage and shout: "OK, open the doors we're going home".
Again, Charlie Harper voiced his displeasure by shouting: "Listen! Everybody who wants to fight, f**k off!"  The majority of the crowd were in agreement and began charting "UK Subs!, UK Subs!"  But with the house lights up and Nick Garrett walking off the stage, it looked like the live action was over.
Step in Charlie Harper again who wouldn't let the idiots win, declaring: "We haven't done our set yet.  Just give Nick another minute."  So around, 12 minutes after the trouble originally broke out, the band were ready to go again, with Charlie Harper asking for the house lights to be turned down because they wanted to carry on.  His request was obliged and they played another eight songs (in 15 minutes!) before a subdued crowd made their way home.
UK Subs setlist for High Wycombe Town Hall – 27 June 1979
Emotional Blackmail
I.D.
I Couldn't Be You
I Live in a Car
Tomorrow's Girls
Blues
World War
Rockers
TV Blues
Crash Course
Telephone Numbers
Killer
Lady Esquire
B1C (abandoned due to crowd trouble)
Disease
Emotional Blackmail
I.O.D.
I Don't Wanna Know
Young Criminals
Stranglehold
Scum of the Earth
C.I.D.
Despite the audience problems at this gig, it is credit to promoter Ron Watts and the band that they returned to the Town Hall in September 1979 as part of a tour promoting their debut album, 'Another Kind Of Blues'.
High Wycombe was lost from the major gigging circuit during the 1980's but The UK Subs would return several more times in smaller venues and at the time of this article were set to appear at The Phoenix in Bridge Street on November 2019 – just over 40 years since their first appearances in the town.  You can do the calculations on how old Charlie Harper would be at this point.
For your listening and viewing pleasure
Stranglehold – UK Subs – BBC Top of the Pops – 28 June 1979
Punk Can Take It – 1979 documentary featuring UK Subs
Filmed by Julien Temple at the Lyceum on 15th July 1979
Includes C.I.D., Live In A Car, Stranglehold, Emotional Blackmail, I Couldn't Be You

References and further reading
http://www.uksubstimeandmatter.net/
An amazing treasure trove of UK Subs information