Punks in the process of turning skinheads, Skrewdriver, blasted out a set at The Nag's Head on Thursday 7th July 1977.  A then 19 year old Ian Stuart Donaldson formed the band in 1976 and they rode the crest of the punk revolution in early 1977 before cutting their hair to join the rebirth of skinhead fashion that was coming to light in the second-half of the year.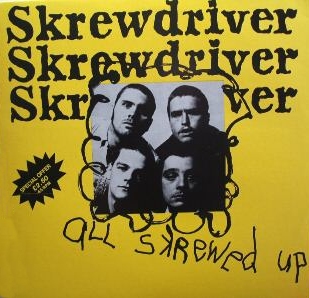 The line-up at the time of their Nag's Head appearance was most likely:
Donaldson (vocals and guitar), Phil Warmsley (guitar), Kevin McKay (bass) and John Grinton (drums).  Ron Hartely (guitar) would replace Warmsley later in 1977.
They would release studio album 'All Skrewed Up' later in 1977 on the Chiswick label before disbanding in 1979.  Hartley appears on the album cover but it was Warmsley playing on the recordings.
Promoter Ron Watts' memories of the band were perhaps tarnished by the highly controversial views of a reformed Skrewdriver in the mid 1980's.  Their debut release contains none of the highly controversial views of their later releases.
Recalling Skrewdriver's Nag's Head appearance, Watts said in his autobiography:
"Punk wasn't all about excitement and interesting music. Skrewdriver came to play the Nag's in July 1977.  They hailed from Blackpool and were a rock band who'd got into punk because that was the future, or the way to earn a fast back. "They played an instantly forgettable set in front of an audience who had learned to sort the punks from the poseurs and a I didn't bother asking them if they fancied a repeat engagement."
Fair to say that numbers at the gig didn't come on the expectations and Watts went on:
"That was the last I heard of Skrewdriver until a few years later when, riding another bandwagon, they re-emerged as a neo-Nazi skinhead band.  Luckily they were the only band of that ilk who I booked and an enjoyable gig a week later by those rapidly-emerging legends of Thames Valley, John Otway and Wild Willy Barrett, put me in a better mood."
Here are a couple of pictures of the Skrewdriver taken during their 1977 fashion transition.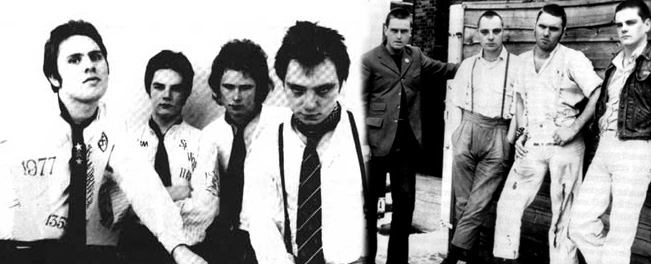 Lead singer Donaldson was asked about the reasons behind their change of image during an early 1980's interview.
"Basically because we got fed up with punk turning a bit leftwing, whereas before everyone came along and had a laugh and danced about, but then it got to the stage where it became high fashion, and people would just stand there seeing who had the most drawing pins through their nose. When it got to that stage it got really silly. We had all been skinheads in the past so we all just reverted, and a lot of our mates coming to the gigs were skinheads."
 Donaldson died in 1993 aged 36 as result of a car crash.
You can listen to the complete first album audio via YouTube.
Note: The final track at 24:10 is a cover of The Who's, Won't Get Fooled Again.
References:
http://www.skrewdriver.com/
https://en.wikipedia.org/wiki/Skrewdriver