The annual Dashwoods Arms Music Festival takes place over the weekend of 15th July 2017. The 2017 event at the Piddington pub (5 miles west of High Wycombe on the A40) is looking to raise funds for The Air Ambulance and to also raise money to help produce the music of recently departed High Wycombe musician Les Payne.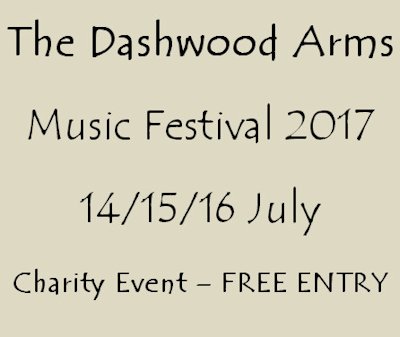 The event kicks-off on Friday evening, followed by a full afternoon and evening of acts on the Saturday. There will also be four acts closing the weekend on Sunday afternoon.  Entrance is free all weekend.
Food at reasonable prices will be served throughout until around 9pm (on the Saturday).
Expected running order as posted on The Dashwood Arms website and Facebook page.
FRIDAY 14TH
7-7.45 BLUE HAZE
8-9.15 STRANGE FOLK
9.15-LATE STANLEY DEE
SATURDAY 15TH
2-2.50 CONFED FRED
3-3.50 HALF A CIGAR
4-4.50 BIG ALL AND THE BLISTERING BUICKS
5-5.50 CARTEL
6-6.50 RED HERRING
7-7.50 TONY GOFF AND THE BROKEN COLOURS
8-9.30 STEALWORKS
9.30 TIL LATE THE MIGHTY TRIPLE O BAND
SUNDAY 16TH
1-1.45 THE BOTTOM LINE
2-2.45 MOUTH ON A STICK
3-3.45 SOBERNOUGHTS
4-4.45 BIG BAD BOB
More info at:
http://www.thedashwoodarms.com/