Tuesday 25th April 1967 – The Who – Town Hall.
The Who returned to High Wycombe for the first time since November 1965.  They had previously appeared at The Town Hall on four occasions during 1965 and their April 1967 return came during a period when their original 'mod' roots were seeing a decline in popularity.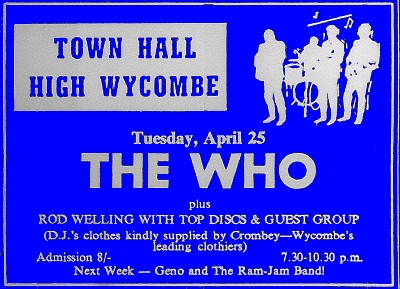 They had originally been booked to play at The Town Hall in February 1967 but it appears that a four date tour of Italy may have taken preference?  The 25th April 1967 appearance also took place a few days before dates in Norway and Sweden.
Released on the weekend before the date at High Wycombe Town Hall was the single 'Pictures of Lily'.  Written by a then 21 year old Pete Townshend, it was described by The Who's guitarist in an interview with NME published in May 1967, as 'power pop'.
This is footage of Pictures of Lily being recorded: