A raft of 'punk' bands who had appeared in High Wycombe earlier in 1977, were set to appear at a new club in London dedicated to the rising scene.  'The Vortex', situated at 203 Wardour Street in London, opened after the relatively nearby 'Roxy' shut its doors to punk as a result of the landlords jacking up the rent in an effort to cash in on the punk explosion.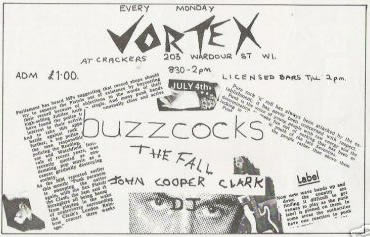 'The Vortex' was the punk night at what was generally known at the time as Crackers Disco.  The opening night on Monday 4th July 1977 saw three Manchester acts take the stage. Headliners, were The Buzzcocks – band members Pete Shelley and Howard Devoto had formed the band having seen The Sex Pistols for the first time in High Wycombe in February 1976.  Support came from The Fall and punk poet John Cooper Clarke.
Johnny Thunders and his Heartbreakers also semi-gate crashed the gig, playing two songs after The Buzzcocks had finished their set.  Thunders had appeared at The Nag's Head in March 1977 but was set to deported from the UK.  Reports suggest their appearance didn't sit nicely with The Buzzcocks. Garth from The Buzzcocks was apparently throw out of the club after throwing things at The Heartbreakers.
Further gigs were quickly arranged at The Vortex.  Acts to follow in the coming weeks included Siouxsie and The Banshees (11th July 1977), Adverts (25th July) and Generation X (1st August 1977).  All had appeared at The Nag's Head at least once earlier in 1977 at The Nag's Head – they were all now drawing packed out venues in the capital.
'The Vortex' became notorious for attracting violent crowds.  Events at the club subsequently inspired The Jam to pen ''A' Bomb in Wardour Street', with the lyrics name checking the venue.
I'm stranded on the Vortex floor,
My head's been kicked in and blood's started to pour
Through the haze I can see my girl
Fifteen geezers got her pinned to the door
I try to reach her but fall back to the floor
'A' bomb in Wardour Street
It's blown up the West End, now it's spreading throughout the City,
The venue would eventually close to gigs in March 1978.
This is the Adverts filmed live at The Vortex in 1977. Note the audience – a mixture of short and long hair but no 'punk' mohicans. Very typical of the time and before 'punk' was dragged through the commercial grinder and end up as Kings Road tourist attraction in the early 1980's.
References: