The Banshees returned to The Nag's Head on Thursday 5th May 1977 as they continued their first steps on the live circuit. Their appearance supporting Johnny Thunders at The Nag's in March '77 was only their 4th ever live outing – the May '77 show in High Wycombe was still only their 8th venture in front of live audience.  Other dates in-between their two Nag's Head dates included a show in Worcester and two gigs at London's Roxy.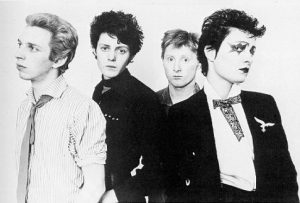 The Nag's Head date was another low key affair promoted by Ron Watts.  There was with very little advance publicity and the audience was made up of the Nag's Head Thursday 'rock night' regulars plus those curious to see a 'punk' band on their door-step.
Banshees bassist Steve Severin explained in Mark Paytress's 2003 biography of the band, "We stepped into a void left by the Pistols because they weren't allowed to play anywhere.  For a lot of people we were probably the first 'punk' band they ever saw live.  Musically we were very different from the Pistols, but then was a huge diversity of sound among all the bands.  No one sounded like Subway Sect, or Buzzcocks, or even The Clash, at that point."
The Banshees line-up at the time still consisted of Siouxsie Sioux (vocals),  Steve Severin,  Kenny Morris (drums) and Peter Fenton (guitar).  Fenton was proving a problem in Sioux and Severin's vision for the band.
Siouxsie (from the Paytress biog): "Fenton didn't really fit in.  He had an orange lead on his guitar and that really annoyed me.  He was a real rock guitarist, always trying to put licks into songs and pulling funny faces when he played.  We spent most of the time trying to make him forget what he'd learned."
Fenton would make his final appearance for The Banshees at London Dingwalls on 19 May 1977.  The guitarist was sacked on stage, Sioux explaining, "He'd gone into this terrible wailing guitar solo in the middle of a song, so I said, 'That is f**king sh*t' and pulled the lead out of his guitar. Afterwards we had this enormous fight backstage.  The management at Dingwalls told us, 'You'll never work here again.'"
There may have been fights backstage at Dingwalls but violence among the crowd and with band members were common place during the early days of 'punk' gigs.  The trouble was not necessarily caused by the teenage/early 20's, 'punks' but typically by the older crowd struggling to come to terms with the new craze. The violence was often very tribal.
Severin recalls: "You could guarantee that at just about every gig there'd be a fight by the end of the third song. Someone would try to drag Siouxsie into the audience. She'd kick them, Kenny would jump over his drum kit and pile in, and it would all go off."  But Severin remembers the Nag's appearance as being slightly unusual: "At The Nag's Head in High Wycombe they had the grace to wait until Kenny was clearing away his drum kit before they threw the first glass."
John McKay would replace Fenton on guitar and played his first gig with the band at London's Vortex on 11 July 1977.  It proved to be the final piece in the Banshees jigsaw – their sound dynamic changed overnight and by the end of 1977 were the one of the most popular live bands on the circuit but bizarrely, at a time when every marginally new wave act was being signed, were still without a record deal.  Even when Ron Watts brought them back to High Wycombe for a gig at The Town Hall in April 1978, they were still a month away from signing a deal with Polydor records.
This is a Banshees demo recorded in March 1977 of a track called 'Captain Scarlet' – a crowd favourite at the time.