It's a busy Thursday night at The Nag's Head on 16th June 1977 as Billy Idol's Generation X return for their third appearance at the High Wycombe venue since forming in London at the tail end of 1976. They had previously performed at The Nag's in January 1977 and March 1977.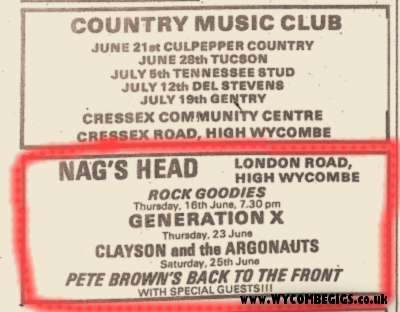 By the time of their June 1977 appearance they had replaced drummer John Towe with 18 year old Mark Laff.  He had been recruited after the remaining members of the band had auditioned more than 20 other drummers.  Laff (AKA Mark Laffoley) had previous drummed with Subway Sect and joined Generation X following the completion of a support slot on The Clash's nationwide tour.
The new look line-up is the final piece in the Gen X jigsaw and record companies are now starting to take note.  They will record a John Peel session on 12 July 1977 and sign a long-term deal with Chrysalis Records the following day.
The band would return for another appearance at The Nag's Head in August 1977 before releasing their debut single, 'Your Generation' the following month.
References:
Generation X – Day by Day – http://www.nemsworld.com/genx/