Two months after being sacked by A&M, The Sex Pistols finally agree a new record deal with Richard Branston's Virgin Record Label for an 'unspecified figure'. The deal was signed on Friday 13th May 1977 and made big news in the following week's music press.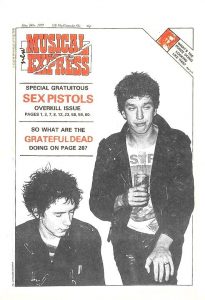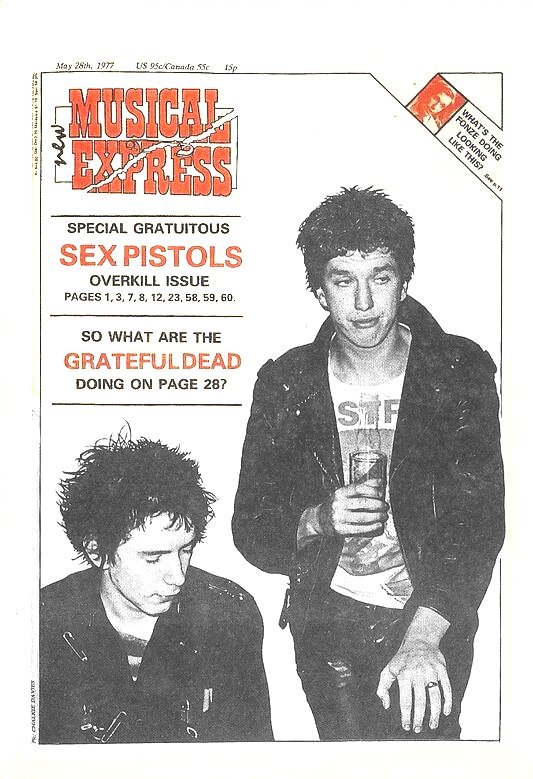 The Pistols had played High Wycombe twice in 1976 prior to signing a deal, first with EMI, and then A&M. The well documented controversy surrounding the 'Bill Grundy' interview in December 1976 and other off stage antics had made record companies wary of taking them on.  While live venues were also reluctant to promote their gigs – although in many cases this was instigated by local authorities keen to set their 'moral standards' and Pistols Manager, Malcolm McClaren, keen to continue the myth that nobody wanted them to play.
Virgin were set to rush release the much delayed Pistols second single, 'God Save The Queen', on Friday 27th May 1977.  The NME also reported in their 21st May 1977 edition that the band had nearly completed work on an album, while a spokesman for Virgin described advance orders for both LP and single as 'massive'.
A huge marketing campaign was also planned by Virgin to announce the new contract and forthcoming single. But plans to advertise on ITV were thwarted when both Thames TV and London Weekend rejected the commercial, even though it had been described by Virgin as 'not offensive or controversial'.  Perhaps Thames TV were still smarting from the Bill Grundy episode?
The Pistols were also said to be looking at returning to gigging again but would have to overcome the number of alleged bans from venues and local authorities. After playing The Nag's Head in September 1976, the band played around 25 further dates before the 'Grundy' moment on 1 December 1976.  Post 'Grundy' and until the day they signed for Virgin in May 1977 they had played less than ten further dates in the UK, plus a couple of dates in the Netherlands.  Just two of those dates had included new bassist, Sid Viscous – brought in during February 1977 for The Beatles loving Glen Matlock.
Local promoter Ron Watts' connection with the band (he put them on ten times at The 100 Club between March 1976 and September 1976, plus the one-off show at The Nag's Head), led to on-going rumours that they would return to the town for a secret gig. Later in the year, the infamous S.P.O.T.S (Sex Pistols On Tour Secretly) would drive the rumour mill into top gear, with any remote connection to the word SPOTS and a Ron Watts gig being suggested as a possibly return to The Nag's Head for the punk icons.
Did you go down The Nag's Head on the off chance that the latest Ron Watts promotion may be the Sex Pistols in disguise?