Wednesday 1st December 1976
Less than three months after attracting virtually no publicity for their gig at The Nag's Head, The Sex Pistols went the 1976 equivalent of 'viral' when they said f**k and s**t on early evening TV in the UK.
Those in the High Wycombe area at the time would have been able to tune into Thames TV 'Today' programme, hosted by Bill 'as drunk as I am' Grundy.  Broadcast at 6pm, by the time the programme had closed 30 minutes later, Grundy's now infamous run in with The Sex Pistols and their entourage had shot the punk rockers to the front pages of the tabloids.
Wycombe would take a little more waking up though.  Later on in the evening of 1st December 1976, the lovely Anita Harris would perform at Desborough Road's Chiltern Rooms.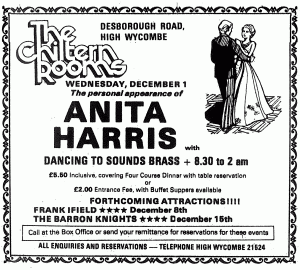 £2 would have gained you entry, including a buffet supper. Or you could have pushed the boat out and spent £5.50 to include a 'Four Course Dinner'.
Here's the footage of the Today programme from 1st December 1976.
(Obviously contains swearing).
From that day on everything changed.
A few days later at the close by Desborough Hall, Wycombe's Deathwish took to the stage as they became the first local band to grasp the punk scene.