Ron Watts gave Swindon's XTC a Nag's Head debut on Monday 16th May 1977.  The four piece consisted at the time of Andy Partridge (guitar and vocals), Colin Moulding (bass and vocals), Barry Andrews (keyboards and piano) and Terry Chambers (drums).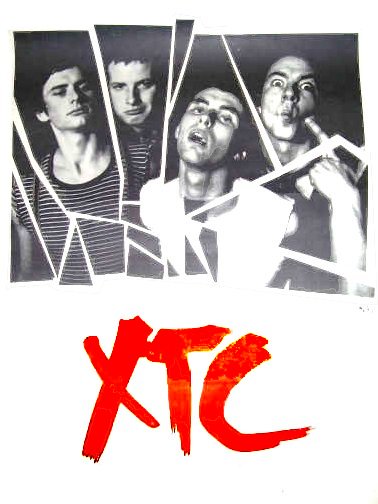 Their live performances in the early gigging days were noted for the antics of keyboard maestro Andrews.  He used a combination of piano and 'open-top/stage tilted' keyboards to mesmerise the audience.  In the days when punk was becoming the fashion, they were not necessarily the hippest people in town but they knew how to write a pop song.
But the rising punk scene had given XTC a foot into the door of the music industry and at the time of this Nag's Head appearance several record companies were chasing their signature.  They had already recorded demo's for CBS but they got cold feet – maybe after a number of abortive London gigs in early 1977? At a gig at London's Rochester Castle on 14th April 1977, Andrew's keyboards malfunctioned and they had to play as a trio, presumably with record company 'suits' looking on. "We had to play all the dumb stuff", said Andy Partridge in a Sounds review of the gig.
The Nag's Head appearance went a little smoother and they impressed Ron Watts enough for a repeat booking just a few weeks later. They would eventually sign for Virgin records in August 1977 – releasing their first single in October with the rapid fire, 'Science Friction'.
XTC would re-pay Watts' faith in the band a couple of years later with a headline performance at High Wycombe Town Hall – just at the point they were about to break into the UK single charts.
Here's a sample of one of their early live shows- recorded in Swindon (around September 1977) – the not quite so poppy 'Cross Wires', complete with Barry Andrews going a bit crazy on keyboards.
Read more about XTC at the amazing http://chalkhills.org/ website.