Locally based Public Service Announcement are scheduled to make their fourth appearance since forming earlier in 2017 with a headline appearance at High Wycombe Phoenix Bar on Friday 8th December 2017.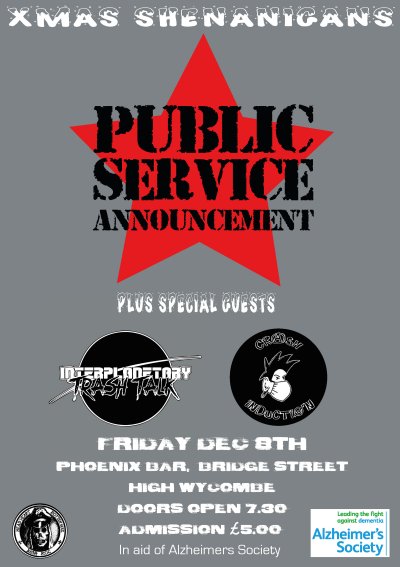 The band, who include former members of 1980's punk outfit Basta Roc, debuted in April 2017 before a fully blown debut at The Phoenix Bar in June 2017. They went on to play BledFest in September 2017 and will return to The Phoenix Bar for some 'Xmas Shenanigans'.
Support on the night is set to be two more punk bands – Nottingham based Interplanetary Trash Talk and Northampton based Crash Induction.
Doors Open 7.30pm – Admission £5 – In aid of Alzheimer's Society.
Links
https://www.facebook.com/PSAPUNK/
https://www.facebook.com/interplanetarytrashtalk/