Basta Roc are one of the best known of the High Wycombe based 'post punk' bands.  With a gigging history of more than ten years they were regulars down The Nag's Head, as well as venturing into London for dates at iconic venues such as The 100 Club, Dingwalls, Fulham Greyhound, Kentish Town's Bull & Gate and The Mean Fiddler.
The origins of Basta Roc can be traced back to 1981 when the remaining members of Xerox Dummies (formed in High Wycombe the summer of 1980) formed a new group with a line-up of John Fleming (vocals), Gareth Jones (guitar), Nathan Adams (guitar), Dominic O'Hara (bass) and Joe Scully (drums) – they were all teenagers at the time.
Basta Roc recorded a debut single (Monument) in October 1981 for the Proto Noise label and this was aired on the John Peel show later that year.  Artwork for the sleeve, including the distinctive Basta Roc logo were created by the hidden talents of guitarist Gareth Jones.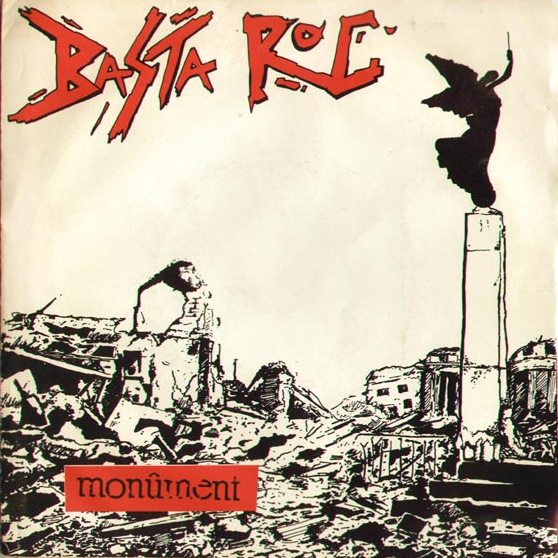 A four track demo containing the tracks 'Warrior', 'Moment of Madness', 'I've a Feeling' and 'Shattered Visions' was laid down early in 1982 as they began to command a local following through their energetic live shows.
Reviews at the time cited their influences as a heavily related to The Clash and Theatre of Hate while their hairdo's were often described as 'stunning'.
Subtle line-up changes, plus vocal and instrument swopping followed though the 1980's.  Pete Colverd joining on guitar in April 1982 in place of Nathan Adams being one of the newcomers.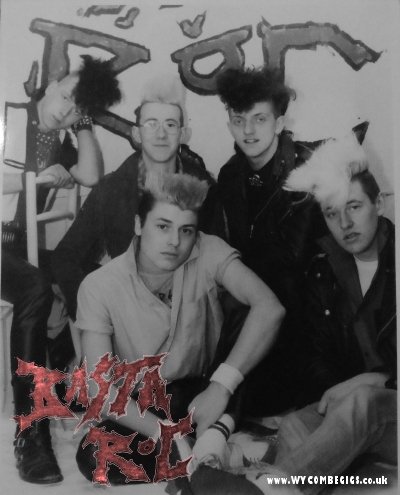 Key gigs for Basta Roc during that time were a support slot to The Alarm in November 1983 at Aylesbury Friars, support to German post punkers Xmal-Deutschland at High Wycombe College in November 1985.  A gig at The Nag's Head in October 1985 was also filmed for part of a BBC documentary but is believed to remain un-broadcast. However, a Basta Roc clip survives (including the band walking through West Wycombe caves) and can be seen on You Tube.
In 1986 the track Billy Bones was included on the Wycombe Compilation album, while during the same year they shared the headline slot with fellow local band No No Fear for a sell charity gig at the High Wycombe College Main Hall.
John Fleming would eventually leave to join fellow Wycombe band T-Birds (Pete Colverd switching to bass), and there was brief change of name to Bastion before reverting back to their original title.
Dominic O'Hara parted ways with the band later in the 1980's, with No No Fear lead singer Robin Barker eventually joining the Bastas during a resurgence of success and gigs in late 1989 and early 1990.  Popular tracks at the time included 'Soul Shaker' and 'Break for the Border', with influences this time around including The Cult and Billy Idol.  Meanwhile the hairdo's remained extravagant right up until they stopped gigging around 1993.
In memory of Gareth Jones who passed away in 2016 aged just 53.
Biography by Paul Lewis – first published March 2017.  Thanks to Gareth's Kate, John and Pete for their help.  If you have any memories or memorabilia on Basta Roc, please get in touch.