The Tom Robinson Band made a return to The Nag's Head on Sunday 9th October 1977 for a low key warm-up date to promote their debut single – 2-4-6-8 Motorway.  The band had signed for EMI just a few weeks previous and their previous appearance at The Nag's Head on 25th August 1977 had gone down a storm with the locals – and with a near sold out venue, promoter Ron Watts was a very happy man too!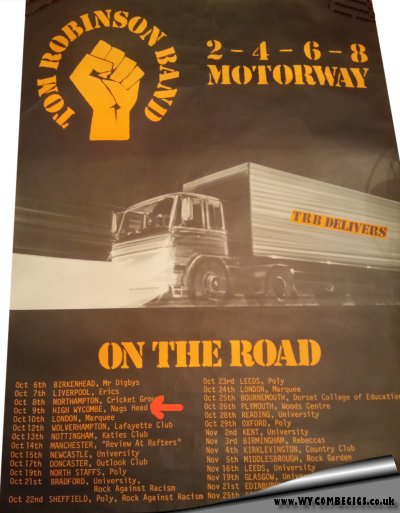 The 2-4-6-8 single had been released the Friday before their second appearance at The Nag's Head and it was another busy night.
Peter Cottridge, writing in the December 1977 issue of the High Wycombe fanzine, Bucks Shee Press, said of the Tom Robinson Band: "When the band played at The Nag's Head recently it was something special. The atmosphere was almost tangible, the audience becoming spontaneously involved in a way rarely seen at most rock and roll outings."

He added: "Tom's songs are securely rooted in the reality of 1977 and are social comment with a definite political stance."
The set list for the gig at The Nag's Head included the following:
Long Hot Summer
Don't Take No For An Answer
2-4-6-8 Motorway
Martin
Winter of '79
Better Decide Which Side You're On
I'm All Right Jack
Right on Sister
Glad to Be Gay
Power in The Darkness
Up Against The Wall
Encores are most likely to have been popular covers, Bob Dylan's 'I Shall Be Released' and Lou Reed's 'Waiting For My Man' – plus another play of the new single,  2-4-6-8 Motorway.
The performance was extremely well received by the Nag's Head gig-goers and Tom promised the crowd he would see them again soon. It was a promise he would keep – returning to the much larger Town Hall venue at the tail end of the tour – by which time the band had celebrated a top five hit and appeared on Top of the Pops.
This is a live performance of 2-4-6-8 Motorway recorded at a similar time to the Nag's Head.