Local band Public Service Announcement returned to The Phoenix Bar in High Wycombe on Saturday 7th July 2018 for a FREE entry gig, including two support acts.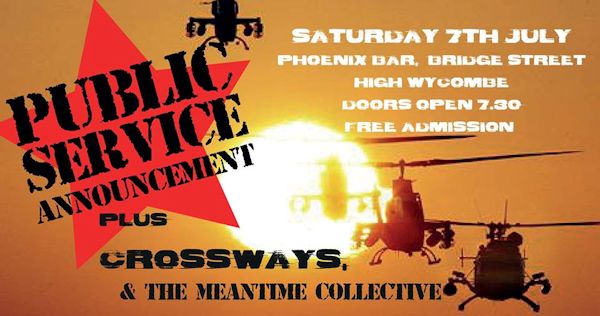 Public Service Announcement debuted in April 2017 and in the following 12 months or so played High Wycombe and surrounding areas a number of times. Their most recent outings prior to 7th July date were appearances at The Animals Rock Festival at The Dashwood Arms in May 2018 and a slot at The No More Heroes Punk Festival at Wycombe Arts Centre in June 2018.
They have recently added around six self-penned new numbers to their set, complementing cover versions of 'Tommy Gun', 'Staring at The Rude Boys', 'I Fought The Law' and 'Ready Steady Go'. Their set also typically includes two or three Basta Roc favourites as a throw-back to the days of the band that featured current band members Pete Colverd and John Fleming.
Support act Crossways are described as an 'alternative indie rock band' from Chesham, while The Meantime Collective get the tag-line 'blisteringly fast, ska infused punk rock.' They are a three-piece from Brighton.
Read more about the bands via their respective Facebook pages:
Public Service Announcement
https://www.facebook.com/PSArocknroll/
Crossways
https://en-gb.facebook.com/CrosswaysUk/
The Meantime Collective
https://b-m.facebook.com/TheMeantimeCollective/
PLEASE SUPPORT THE LIVE MUSIC VENUES IN HIGH WYCOMBE
Here is a taste of what to expect from Public Service Announcement.
Their version of 'I Fought The Law' from The Animals Rock Festival