A free day-time festival has been arranged at the home of the mighty Wycombe Wanderers on Saturday 6th May 2017.  Adams Park will host the event in the lower car park at Adams Park from 1pm to 4pm as a prelude to Wanderers' final game of the 2016/17 season at home to Cambridge United.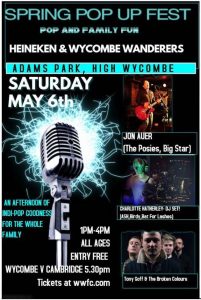 The live music will be from
Jon Auer – from US band Posies and Big Star
Charlotte Hatherley (DJ set) – former guitarist and backing singing with with Ash
Tony Goff and The Broken Colours
Entrance is free to the festival. Should you wish to attend the football (kick-off 5.30pm), tickets will be available on the day.  There will be a bar and food available at the festival.
Please support this event and your local team.
More info on the acts:
https://twitter.com/jonauer?lang=en
https://twitter.com/chatherley79
https://twitter.com/tonygoffmusic
More info on the event:
http://www.wycombewanderers.co.uk/news/article/2016-17/pop-up-festival-at-adams-park-this-saturday-3702982.aspx