After a wait of six months, The Sex Pistols finally release their follow up to debut single 'Anarchy in the UK'.  Signed to Virgin records earlier in May, 'God Save The Queen' is released on Friday 27th May 1977 amidst a mass of controversy.  The BBC take the moral high ground and initially ban it from all their programmes.  However, not before John Peel managed to squeeze a couple of pre-release plays on his late evening Radio 1 show.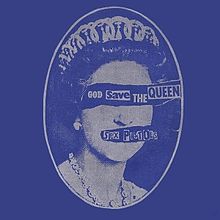 If you wanted to hear it in High Wycombe in 1977, you had the choice of buying the single from one of the local record shops – or just possibly sneaking a listen in one of the booths at Percy Priors in Castle Street.  There was also the chance to hear it played by the DJ at gigs at The Nag's Head, while in town, the eclectic juke box at The Coach & Horses in the High Street, was another option.
Despite the lack of national air-play, sales of the single eventually reached an estimated 20,000 copies a day and it peaked at No.2 in the official charts. – There is a (perfectly reasonable) conspiracy theory that the charts were rigged to allow Rod Stewart's aptly named 'I don't want to talk about it' to take the top spot away from the punk rockers.
The success of the single also helped boost the punk profile of the town.  The Bucks Free Press quoted local Vicar, Rev. John Crisp as saying: "Any record selling so many copies should not be ignored. It should be answered."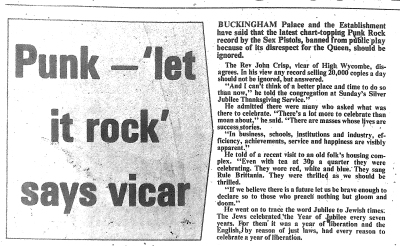 Rev. John Crisp also commented on the song's line: 'There ain't no future in England's dream,' – saying: "If we believe there is a future, let us be brave enough to declare so to those who preach nothing but doom and gloom".
Here is the video for 'God Save The Queen', recorded at The Marquee, London on 23rd May 1977.