Aylesbury 'rockers' Ardazell played The Nag's Head on Thursday 26th May 1977, as promoter Ron Watts gave the punters a break from the ongoing 'punk' scene.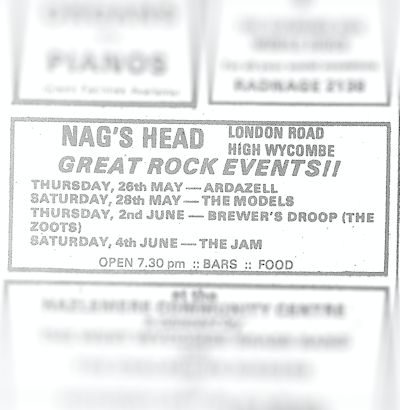 At the time of this post (40 years after their Nag's Head appearance), there appeared to be little historical record of the band. However, the photo below, taken from a September 1976 edition of the Bucks Herald, shows lead guitarist Clive Wagerfield sporting his homemade solid aluminium guitar – very 1970's! Although it was the still the 1970's!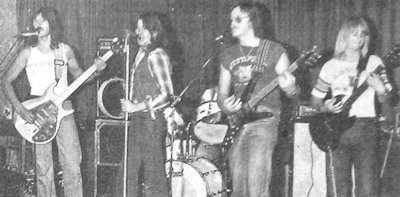 According to the flyer for that appearance, their line-up was: David Bowden (lead vocals), Clive Wagerfield (lead guitar), Phil Cutler (drums), Ricky Claire (second guitar), Steve Davis (bass and vocals).
Majority of set was self-written by Wagerfield (music) and Bowden (lyrics). Most popular songs from their 1976/77 era were 'Shinin down', One More Broken Heart', 'Ardazell', 'Gambler', 'Hurricane Children', 'Let Me Love You', 'Secrets', 'Mr Please' and '9.15 To Nowhere'.  Their set also included from time to time, Larry Williams 'Bony Moronie'.
Whatever happened to this group and their band members?