The Jam returned again to The Nag's Head on Thursday 12th May 1977 supported by relatively new outfit Wire.
The Jam had released their debut single and album in the two weeks leading up to the gig and the local fan base of the band meant the busiest night down The Nag's Head since the USA Rock Weekend in March.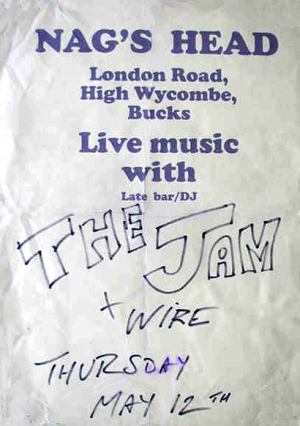 Wire were formed in October 1976 by Colin Newman (vocals, guitar), Graham Lewis (bass, vocals), Bruce Gilbert (guitar), and Robert Gotobed, real name Robert Grey (drums). Their recognised live debut with this line-up was at London's Roxy on 1st April 1977.
Wire released their first single on EMI offshoot label, Harvest later in 1977 with three diverse tracks:  'Mannequin', 'Feeling Called Love' and '12XU'. Their second single, 'I am the Fly' was apparently an early favourite of Jam lead singer Paul Weller.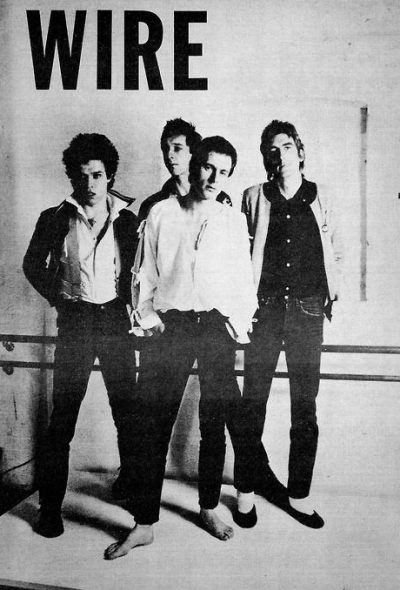 In a interview with Rolling Stone magazine, ahead of their March 2017 release of LP Silver/Lead, leader singer Colin Newman quipped:
"We're the most famous band you've never heard of. Our fans assume that Wire is massive – like, we've all got mansions. And then there are lots of people who know groups who are more successful than Wire who've been influenced by Wire – yet they've never heard of Wire. It's a very strange kind of fame."
Meanwhile, The Jam were on the road the fame, or at least an appearance on Top of the Pops.  Their performance of the single 'In The City' on Thursday 19th May 1977 (a week after their Nag's Head) appearance is widely recognised as the first by 'punk' group on the BBC programme.  The arguments about whether The Jam are a 'punk' band, or not, will go on forever.
Paul Weller commented on the punk scene in the NME published on the day of The Nag's Head gig:
"I don't see any point in going against your own country. All this 'change the world' thing is becoming a bit too trendy. I realize that we're not going to change anything unless it's on a national scale. We'll be voting Conservative at the next election."
Weller later claimed it was a bit of wind-up and he went on to support the Labour party in the years ahead.
Here's Wire performing the punky '12XU' from their first single:
And here's The Jam 'punking it up' on Top of the Pops.
Were you one of the punters who queued up the Nag's Head stairs and paid £1 (75p for members!) to see these two hugely influential bands?