Gene October's London punk outfit Chelsea were billed to appear at The Nag's Head on Friday 13th May 1977 with fellow Londoners Stukas as support.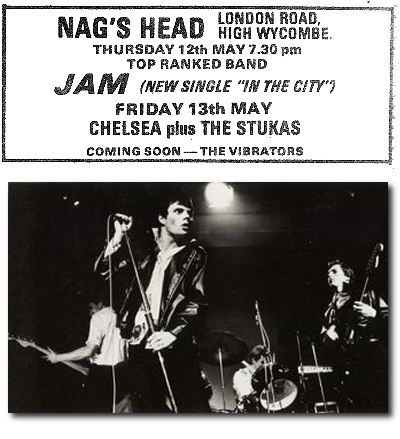 There may be a debate whether this gig actually took place as some listings have Chelsea down as playing a London date at The Winning Post on the same evening.  If you can confirm either way, that would be great.
Gene October (real name John O'Hara) had formed Chelsea in October 1976 along with Billy Idol and Tony James.  Idol and James went on to form Generation X in late 1976 but October stuck with a new look Chelsea that included Carey Fortune (drums) and eventually Henry Badowski (bass) and James Stevenson (guitar).
Later in 1977, this line-up would record the anthemic 'Right to Work' single, released on Step Forward records.
Meanwhile, The Stukas had performed their first gig around around Christmas 1976 at The Imperial Hotel, off Russell Square in London.  They consisted of Paul Brown (vocals), Raggy Lewis (guitar and vocals), Mick Smithers (lead guitar), Kevin Allen (bass) and John Mackie (drums).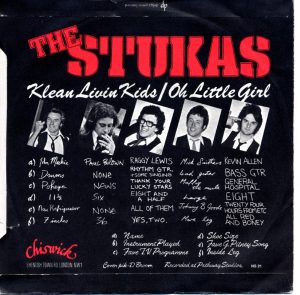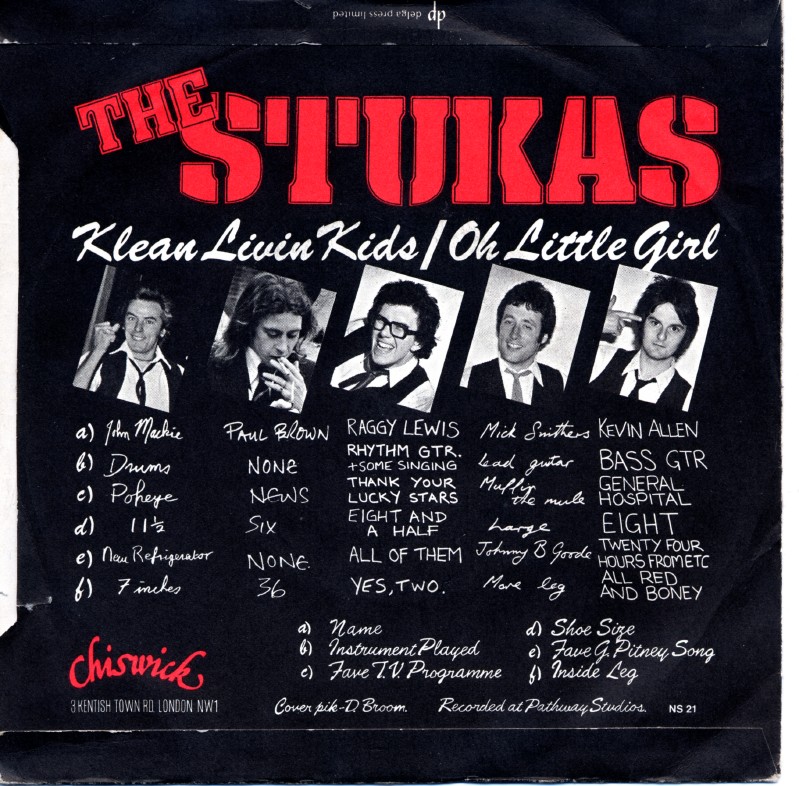 Pre-Stukas, band members had been in a group called The Teenage Rebels.  Guitarist Raggy Lewis claimed in a Sounds interview published in June 1977: "The Teenage Rebels were before their time. We were getting banned from venues long before the Sex Pistols came along."  Kevin Allen added: "That's because we were bloody awful."
The Stukas set-list at the time included: 'Klean Living Kids', 'Position Number One' and 'Maxine'
Despite supporting the likes of Chelsea, Wayne County and Johnny Thunders, they were a band who tried to distance themselves from the rising 'punk' and 'new wave' scene.
Lewis explained in the Sounds interview:
"The punks seem to like us. Down at The 100 Club we even had a Ted pogoing! But I reckon we're really aimed at the football crowds."
Allen chipped in:
"We're called the Stukas 'cos if people don't like us we come and drop bombs on their house."
This is The Stukas first single, 'Klean Living Kids', released on Chiswick later in 1977.
This is a practice session for Chelsea's first single,'Right to Work', also released later in 1977, plus an interview. Chelsea would go on to release several more singles in the 1970's and early 1980's and continue gigging into the 2000's and were still active at the time this article was first published.