A fourth appearance in 1977 at The Nag's Head by the rapidly rising Generation X saw another packed house at the London Road venue. Promoter Ron Watts also gave locally connected Pink Parts a return slot in front of a now 'punk' hungry crowd.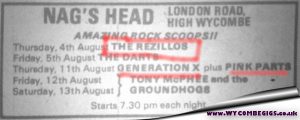 Generation X had signed for Chrysalis Records in July 1977 and would release their debut single, 'Your Generation' just under a month after their August 1977 appearance at The Nag's Head.
The set list that evening would have been chosen from the following songs:
Rock On
From The Heart
This Heat
Above Love
New Order
Listen
Wild Youth
Ready Steady Go
Day by Day
Kleenex
Trying for Kicks
Youth Youth Youth
Your Generation
The day after The Nag's Head gig, Generation X would play London's Marquee Club in Wardour Street. 'Your Generation' was filmed for a video for the single.