The Tom Robinson Band made their debut appearance in High Wycombe on Thursday 25th August 1997 with a Ron Watts promoted evening at The Nag's Head.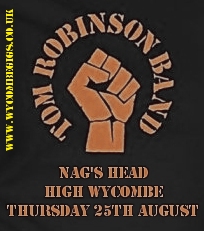 The set consisted of mainly politically edged songs touching on the subjects of gay liberation, racism and political issues surrounding the country at the time.  The repertoire also included the pure rock/pop of '2-4-6-8 Motorway' – a song that attracted the attention of record companies.
Lead singer and bassist Tom Robinson had originally been inspired by the early pirate radio shows of John Peel.  He moved to London in 1973, aged 23, and joined acoustic band Café Society.  But it was in 1976 that Robinson got another wake up call.  He stumbled across an early Sex Pistols gig at The 100 Club in London and although he openly confesses to not liking the music, it was something about the anger, attitude and spirit of the Pistols that caused Robinson to have a complete rethink of his own musical aspirations.
After a few solo gigs in late 1976, Robinson drafted in guitarist Danny Kustow, drummer 'Dolphin' Taylor and organist Mark Ambler to form the Tom Robinson Band.  Robinson would take on bass and vocals and they performed their first gigs in late 1976 at the usual London pub outlets.
Some might say that TRB were a watered down version of the early punk bands but the message they were putting across was as hard as anything the Clash or the Pistols could come up with.  For many, it also seemed a perfect fit for the more laid back suburbia of High Wycombe.
2-4-6-8 Motorway may have been an ear catcher of the record companies but followers of their live gigs would soon realise they were not a one trick pony, with a series of classic songs, that despite not yet being committed to vinyl, were now sing along or fisting pumping standards – from 'Glad to Be Gay', to singing about Grey Cortina's – from preaching 'Don't Take No for an Answer' or predicting the future with the haunting 'Winter of '79'.
This is the band appearing on Janet Street Porter's London Weekend Show in mid 1977 – shortly before they signed for EMI.  They would return to The Nag's Head in October 1977 before a near sell-out appearance at The Town Hall later in 1977.