My research for 1968 live gigs in High Wycombe unearthed a couple of early appearances by Mud – a group better known for the huge success they enjoyed between 1973 and 1976 (14 top 20 UK hit singles, including three number ones).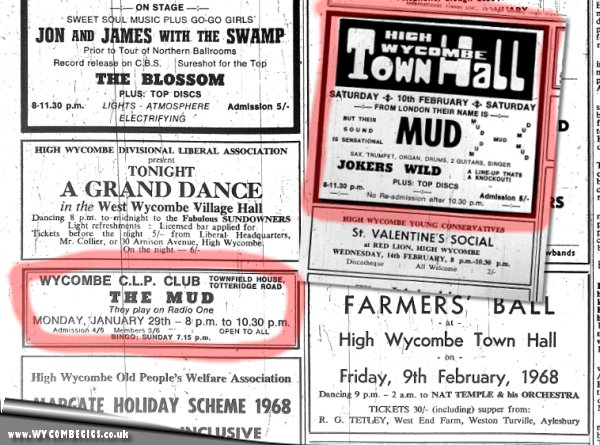 Mud had formed in Surrey in February 1966 and released their debut single 'Flower Power' in late 1967 and a follow-up 'Up the Airy Mountain' during the early months of 1968. They first played High Wycombe on Monday 29th January 1968 at The Townfield House in Totteridge Road (the road directly above High Wycombe railway station).  The venue (with a capacity of around 200) was home to the local Constituency Labour Party (C.L.P.) – it had been hosting gigs since 1967 – typically on evenings when other venues were not open.  The Mud gig was billed as 'They play on Radio One'.  Admission was 4/6 (22 ½ p) for non-members and 3/6 (17 ½ p) for members.
It can only be assumed that the Townfield House gig was a success, as less than two weeks later they were back for an appearance at the much larger capacity Town Hall. The date of their second appearance was Saturday 10th February 1968, with the Bucks Free Press advert confirming 'From London their name is MUD but their sound is sensational'. Admission was 5/- (25p).
The line-up of Mud at the time of their High Wycombe appearances included songwriters Les Gray (vocals and keyboards) and Rob Davis (guitarist), both 21 at the time.  The dates of their High Wycombe shows also appear to be at a similar time they signed their first professional recording contracts.  According to a band history, written by Dave Profitt (see link below), they played their first professional gig on 31st March 1968 at London's Marquee Club – a few weeks after their High Wycombe dates.
For your listening pleasure
This is what Mud sounded like back in 1967 and 1968.
Flower Power – Mud 1967
Up the Airy Mountain – Mud 1968
References:
http://www.mudrock.org.uk/html/story.html
https://en.wikipedia.org/wiki/Mud_(band)