West London based Dynaflow Blues made their Nag's Head debut on Friday 26th April 1968 as Ron Watts' recently launched 'Blues Loft' venture at the London Road venue continued to attract attention.  Looking back on the 50th anniversary of their appearance at The Nag's Head, Dynaflow Blues drummer Mel Wright has shared more of his memories, press cuttings and priceless photos from the time.
Dynaflow Blues had been formed out of Shakey Vick's Big City Blues Band who received an encouraging reception from High Wycombe Blues fans after playing their first gig at The White Hart with Champion Jack Dupree in March 1968 and then nearby at The Angel.
Watts then moved the 'Blues Loft' to The Nags Head, with the opening night on 5th April 1968 featuring Jack Dupree (accompanied by Shakey Vicks's band).  Savoy Brown followed on Friday 12th April 1968, with Chicken Shack on Friday 19th April 1968.
Watts was soon to book in the newly formed Dynaflow Blues at The Nag's Head. Mel confirms the line-up of the band as Ron Skinner (vocals/bass), Rod Price (guitar), Chris Elvin (blues harp) and Mel Wright (drums).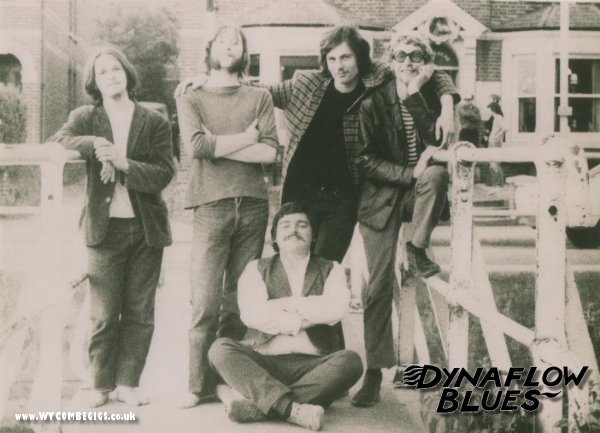 Mel recalls: "The 26th April 1968 gig at The Blues Loft was our third gig of that week, after playing at Ron Watts' The Thames Hotel in Windsor. We were excited to play The Blues Loft and had an enthusiastic crowd come to see us.  We had a new set of songs that included 'Big Road Blues', 'Stones in My Passway' and 'Too Much' – a mix of Robert Johnson, Jimmy Reed and Tommy Johnson numbers.  Ron Watts was very pleased with the rousing packed reception and reunited us to play with Champion Jack Dupree at Conway Hall, London.  This was another great gig which we prepared by rehearsing to his album 'Blues From The Gutter'."
Dynaflow Blues were based in London and Mel says they were not used to the warm welcome they recieved when they played in High Wycombe. He added: "During 1968 we played at The Blues Loft at The Nags Head five times – alongside Jethro Tull, Chicken Shack and Savoy Brown and Shakey's new band (we were still friends!). We also accompanied Texas bluesman Curtis Jones."
Mel's memorabilia collection includes a Bucks Free Press article from May 1968 that reviewed those early days of The Blues Loft. The Teen and Around column said "The club itself has a very good atmosphere. Everyone is very friendly. The audience show their appreciation of the music with lots of foot stamping and cheering of they think a piece is good."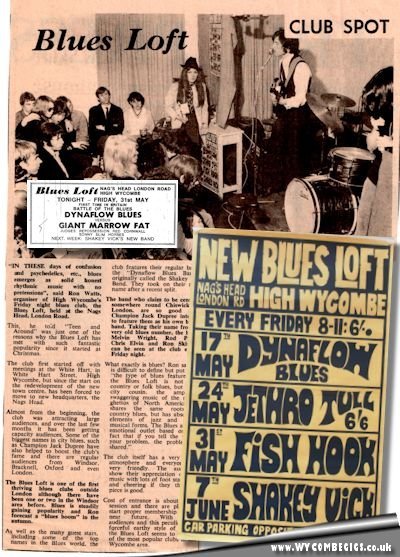 Promoter Ron Watts was also asked in the article to define the type of music played at The Blues Loft. He said: "The type of blues featured at The Blues Loft is not the country or folk blues, but their city cousin, the amplified swaggering music of the negro ghettos of North America. It shares the same roots as country blues but has absorbed elements of jazz and other musical forms.  The Blues are an emotional outlet based on the fact that if you tell the world your problem, the problem is shared."
Mel goes on to say that Ron Watts also formed The National Blues Convention and as Watts' gig empire grew he wrote to Mel in August 1968 from his Aveling Road, Wycombe address to ask Dynaflow Blues to play at his second Blues Loft venue at The Derby Arms, Aylesbury. There were also invites for his other gigs, including The Crown – Marlow, Rugby Club – Maidenhead, and later at The 100 Club in London.  Mel added: "During this period Roy Holley, a local photographer became a good friend and took lots of pictures of Dynaflow Blues around the Nags Head. This all helped us get a manager. Tom McGuinness, along with Manfred Mann, had formed an agency and got us on at The Marquee club and National Jazz and Blues Festival at Kempton Park."
Dynaflow Blues went their own ways by the end of 1968 but Mel reminds us that Rod Price went on to play with Foghat in The States and become quite a star! Indeed, he was right.  A quick bit of internet research reveals that Price went on to join Black Cat Bones (late 1968/early 1969) – replacing Paul Kossoff.  They recorded their only album, Barbed Wire Sandwich (released November 1969) but it failed to be a commercial success and the band subsequently split-up around the end of 1970.  Price joined Foghat in January 1971 – with their debut album, 'Foghat' released the following year and produced by Dave Edmunds.  It was through these recordings that Price would become renowned for his slide guitar work.
Dates of those early Blues Loft gigs at The Nag's Head as advertised in the Bucks Free Press
Friday 12th April 1968 – Savoy Brown Blues Band plus Sunshine
Friday 19th April 1968 – Chicken Shack
Friday 26th April 1968 – Dynaflow Blues plus Watercolour Blues Band
Friday 3rd May 1968 – The John Dummer Blues Band (featuring Tony McPhee)
Friday 10th May 1968 – Giant Marrow Fat
Friday 17th May 1968 – Dynaflow Blues plus The Colin James Blues Band
Friday 24th May 1968 – Jethro Tull
Friday 31st May 1968 – Battle of The Blues – Dynaflow Blues versus Giant Marrow Fat
Friday 7th June 1968 – Shakey Vick's New Band
Friday 14th June 1968 – Doc K's Blues Band
Friday 21st June 1968 – Black Cat Bones
Friday 28th June 1968 – Dynaflow Blues plus Colin Smith
Please share any memories or memorabilia from these gigs.