Pere Ubu, a USA band who described themselves as 'avant-garage' appeared at High Wycombe Town Hall on Monday 20th November 1978.  Support came from The Soft Boys.
Pere Ubu formed late 1975 in Cleveland, Ohio with lead singer David Thomas as constant member during their performing career. Listening back to their music now would probably see them lumped in the 'post-punk' bracket – although they were, essentially around before 'punk'.  They released four singles before their debut LP, The Modern Dance, came out in January 1978.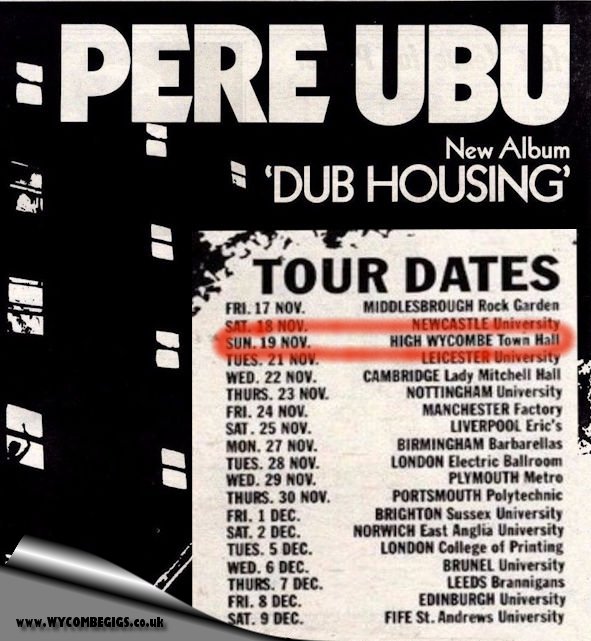 Their date at The Town Hall in November 1978 was part of a UK tour to promote Pere Ubu's second album, 'Dub Housing'. Originally arranged for Sunday 19th November, the gig was switched to the following evening having opened the tour in Middlesbrough and Newcastle. Other dates on the tour included appearances at Manchester – The Factory, Liverpool-Eric's, London – Electric Ballroom.
A feature on Pere Ubu was published in the Bucks Free Press Midweek at their time of their 1978 appearance at The Town Hall. The piece, authored by 'CJK', described the band as; "One of the most radically innovative and challenging bands to appear in the last couple of years."
The article went on to quote lead singer David Thomas saying that he refused to allow the band to be classified: "Classifications aren't valid any more. We have much in common with jazz and early folk, we're pioneers, out there on our own, getting it together."  He added: "We try not to be anything other than what we are. We have no time for false images."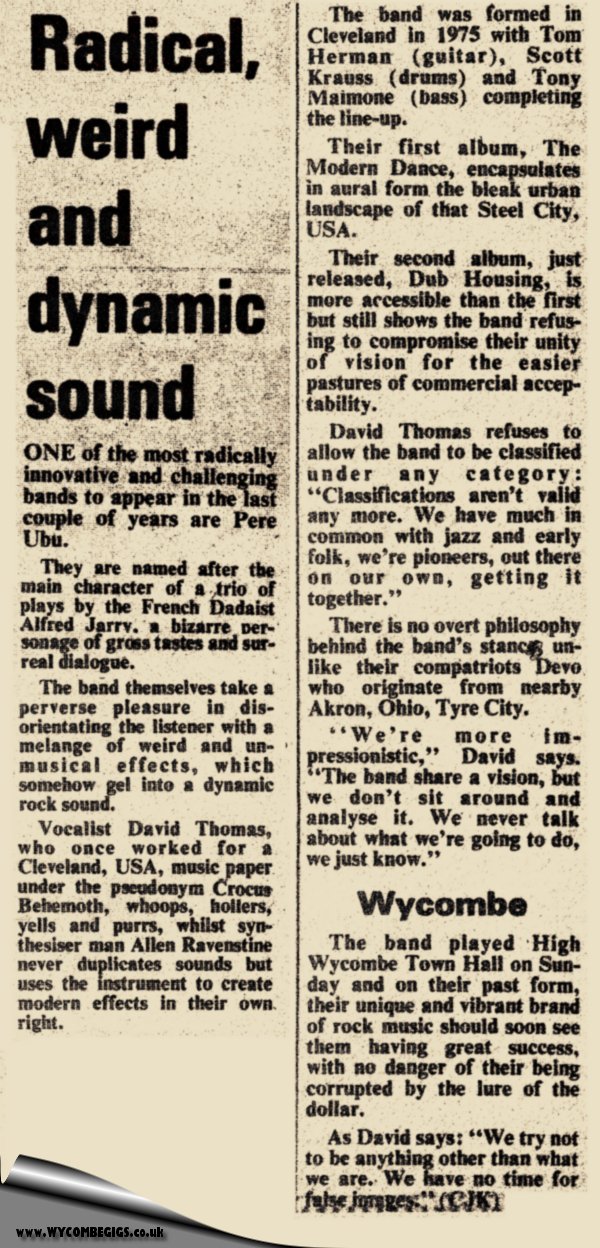 For your listening pleasure
Non-Alignment Pact – Pere Ubu -track from their 1978 Modern Dance album
References
https://en.wikipedia.org/wiki/Pere_Ubu