Glen Matlock's Rich Kids made a long awaited appearance in High Wycombe on Friday 8th September 1978.  The former Sex Pistols bassist had formed the band in 1977 and by the time of the September 1978 date at the Town Hall, interest was high to see what his new band would deliver.  Local band Four Daughters were support for a gig independently promoted by Ron Watts.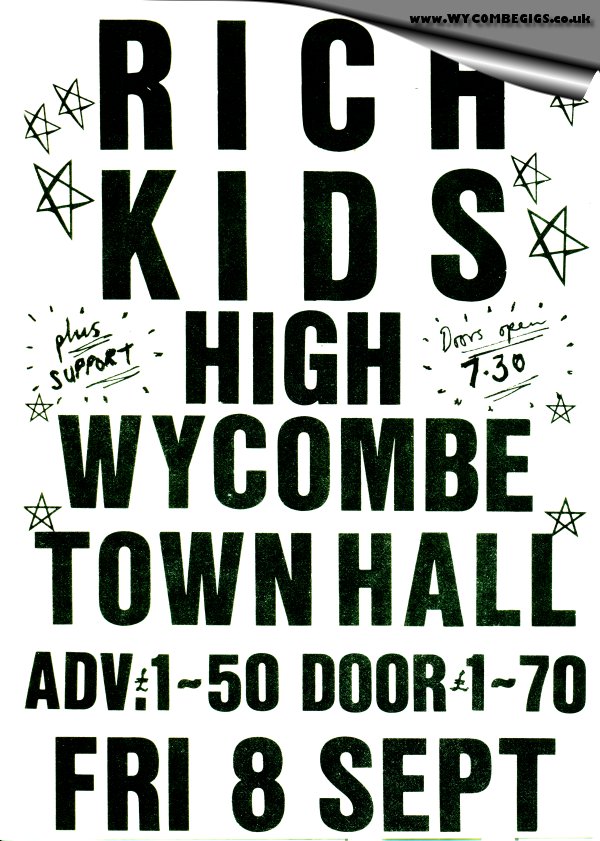 Matlock had been fired by Pistols Manager Malcom McClaren in early 1977 having played High Wycombe on two previous occasions with the punk originals – February 1976 and the College and September 1976 at The Nag's Head. Matlock, aged 22 at the time of the Town Hall gig, had spent the previous year refining the line-up of The Rich Kids which now included Midge Ure on vocals (aged 24), Steve New on guitar (aged 18) and Rusty Egan on drums (just shy of his 21st birthday).  Ure had previously performed with Slik – best known for their single 'Forever and Ever' – No.1 in the UK charts at the time The Sex Pistols played High Wycombe college in February 1976.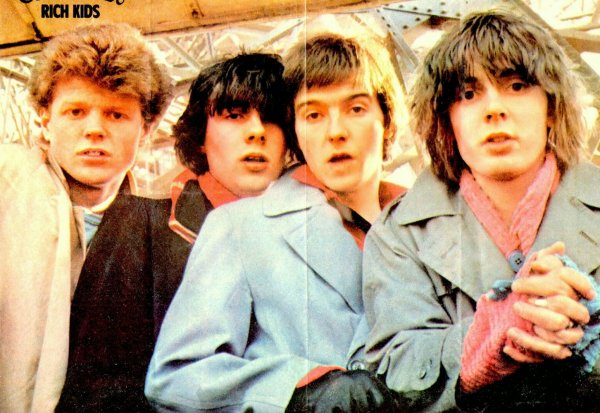 They had signed to EMI records in December 1977 and released their first single, 'Rich Kids' in January 1978 – earning them an appearance on BBC's Top of the Pops and the trailing of ITV alternative music show, 'Revolver'. A date of 30 January 1978 had been pencilled in by Ron Watts for an appearance at High Wycombe Town Hall but arrangements fell through.
Local live music punters keeping an eye of the national music press would also have been excited with reports of a date of 30 July 1978 at High Wycombe Town Hall with The Slits as support. However, despite this date since appearing in gig archive listings, it never took place. Indeed, promoter Ron Watts was busy that evening with a gig at The Nag's Head.
What we can be sure of is that the 8th September 1978 gig did take place.  Three of my friends recall the gig and I was also pleased to find a flyer for the gig in my own archives – probably obtained from Scorpion Records and now appearing on the internet for the first time in this article.
My fellow music friends who attended this gig were 'Buzz', Martin63' and 'Tapps'. The latter recalls that: "The Rich Kids were a bit of disappointment. Their brilliant single 'Ghosts of Princes in Towers' was easily the highlight of the night but the crowd expected something more from Glen Matlock, having reputedly penned most of 'Never Mind The Bollo*ks."
All three also recall local support band 'Four Daughters' – they included former Deathwish, Party, Pretty and Ventilators guitarist Kris Jojvatis. 'Tapps' remembers that their drummer was Dave 'Dudge' Williams. Does anybody else reading this have more information on this band?
Based on a set-list from a Rich Kids gig at Birmingham Barbarellas a few weeks earlier in 1978, the songs played that night at High Wycombe Town Hall would most likely have included:
Sound Of Marching Men
Put You In The Picture
Here Comes The Nice
Empty Words
Young Girls
Bullet Proof Lover
Lovers And Fools
Twelve Miles High
Holy Holy
Burning Sounds
Strange One
Cheap Emotions
Hung On You
Ghosts Of Princes In Towers
Shake Appeal
Rich Kids.
The band eventually split-up at the end of 1978, with Matlock going-on to perform in several other bands and return to High Wycombe and many occasions. Midge Ure and Rusty Egan went on to form an early incarnation of new-romantic band Visage. Ure later gained commercial success with Ultravox.  Matlock's time in Visage was short but he returned to live performing with several bands and returned to High Wycombe on several occasions, including Jimmy Norton's Explosion, Spectres, London Cowboys, Dead Men Walking and a reformed Faces.
Steve New later played in Public Image Limited, Generation X and with Iggy Pop. He also helped out Matlock on his solo projects but sadly passed away in May 2010 from cancer having played with Rich Kids in January 2010 in an one-off benefit concert for his needs.
In 2016, Matlock reformed Rich Kids again for a show at Shepherds Bush and then went back to solo touring. His was embarking on a solo tour of small venues on Europe at the time this article was first published (September 2018).
For your listening and viewing pleasure
Rich Kids – Rich Kids + Ghosts of Princes in Towers – Revolver TV pilot show May 1978
Glen Matlock + Midge Ure interview – Thames TV 1978 with Anne Nightingale
Rich Kids – Here Come the Nice (Small Face cover) – live audio 1978
https://en.wikipedia.org/wiki/Rich_Kids
https://punkygibbon.co.uk/bands/r/richkids.html
http://www.midgeure.co.uk/archive/index.html
https://en.wikipedia.org/wiki/Visage_(band)