The Rezillos made a long awaited and welcome return to High Wycombe on Friday 18th August 1978, playing to a near sold-out Town Hall with support advertised as punk poet Patrik Fitzgerald and local band The Vents.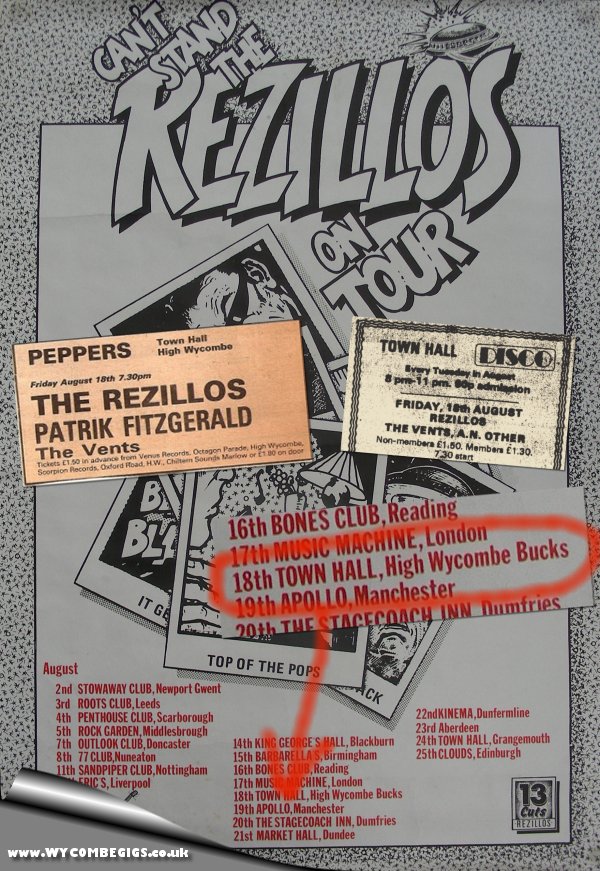 The Rezillos had played The Nag's Head just over a year previous as a relatively unknown punk outfit from Edinburgh.  By the time of the return to High Wycombe in August 1978 they had released their first album 'Can't Stand the Rezillos' (July 1978) and had just secured their first real chart success with their 'Top of the Pops' single.
Promoter Ron Watts had been looking to bring the band back to High Wycombe for several weeks and an original date of 14th July 1978 had been booked (with Sore Throat support) but the gig was cancelled, along with the rest of a proposed Rezillos tour, due to unrest amongst the band.
Their eventual return on 18th August 1978 came just over a week since their Top of the Pops debut – Peter Powell introducing a track that was essentially slagging off the programme.
Here's a quick extract from the lyrics
Does it matter what is shown

Just as long as everyone knows

What is selling what to buy

The stock market for your hi fi

Take the money, leave the box

Everybody's on top of the pops
A packed house at the Town Hall witnessed a manic set that included all The Rezillos favourites – they also threw in a 100mph version of 'Ballroom Blitz' – The Sweet classic from 1974.
Two weeks after their Town Hall appearance they were back on Top of the Pops as their record of the same name hit the top 20. A follow-up single, 'Destination Venus', was released in October 1978 but for reasons what are described as 'growing tensions in the band' led to an eventual split by the end of 1978 (all very well documented via the links below).
Please get in touch or leave or comment if you have any memories of The Rezillos gig at The Town Hall – including any more information on local support band The Vents.
For your listening and viewing pleasure:
The Rezillos – Top of the Pops – BBC Top of the Pops – August 1978
I understand that lead singer Faye Fife was wearing something similar at The Town Hall?
References:

https://en.wikipedia.org/wiki/The_Rezillos