999 returned to High Wycombe on Wednesday 4th October 1978 to make their debut at the Town Hall.  The band had formed out of the London punk scene in late 1976 and had played an infamous gig at The Nag's Head in September 1977 that was marred by violence and resulted in a 'punk' ban for the London Road venue.
A year later 999 were heading back to High Wycombe on the back of a well-publicised tour promoting their album 'Separates' album released on United Artists record label. Support at the Town Hall were Razar.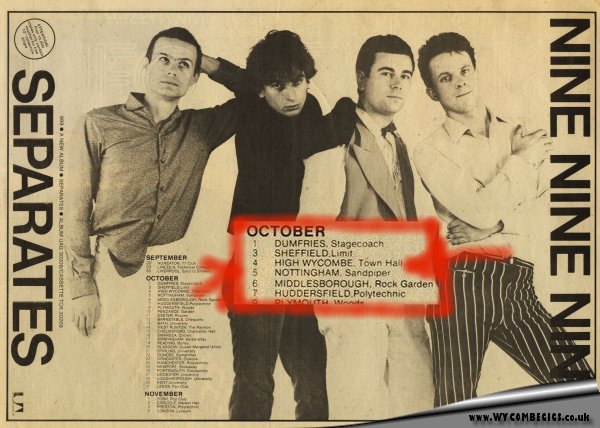 A preview and review of the gig appeared in the local High Wycombe papers. The review of the gig published in the Bucks Free Press Midweek said:
Great gig

New wave pop group 999 gave an exciting and energetic performance at the eighth date in a nation-wide tour at High Wycombe Town Hall on Wednesday night.

The group has just returned from a European tour with The Stranglers and at the moments its following is mainly limited to punk rockers.

The group hopes that this tour will launch it to greater things and if this gig is anything to go by, that should be a long way.

Numbers like 'Nasty, Nasty' got the audience up on the stage and all through the show, rockers dressed in anything from leopard skin body stockings to leather drain-pipe trousers, jumped up and down, incessantly, near the stage.

'Feeling Alright With The Crew', a single taken off 999's new album 'Separates', sees singer Nick Cash's voice, plus echo, used to great effect over hypnotic boogie backing. With 'Subterfuge' and 'No Pity', the group buried any attacks that it is nothing but a two-chord wonder.

There was no safety pins and no violence. 999 responded well and the audience lapped it up.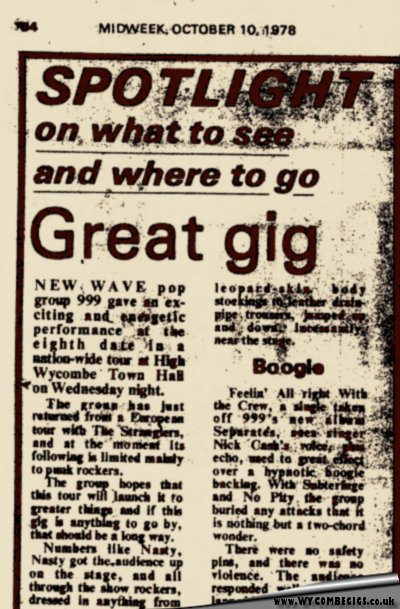 The success of the gig led to promoter Ron Watts bringing the band back to the Town Hall for another appearance in December 1978.
For your listening and viewing pleasure
 Feelin' Alright With The Crew – 999 – audio