Wire returned for a performance at The Nag's Head on Friday 9th December 1977 for what is believed to be their first headline appearance at the High Wycombe venue.  The London based band, formed in late 1976 as part of the original 'punk' scene, had supported The Jam at The Nag's Head in May 1977.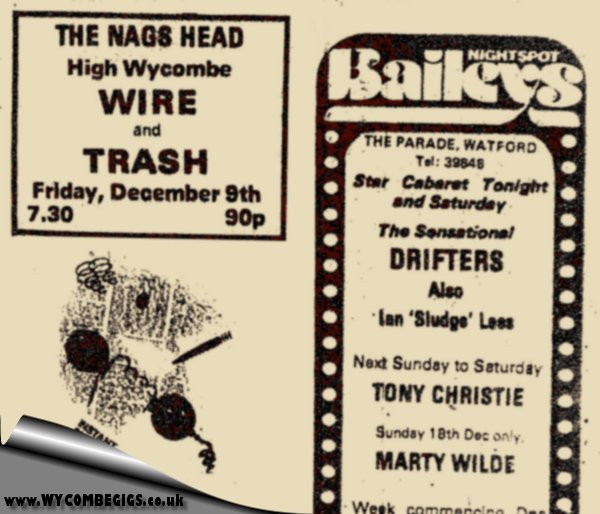 Formed in October 1976 by Colin Newman (vocals, guitar), Graham Lewis (bass, vocals), Bruce Gilbert (guitar), and Robert Gotobed, real name Robert Grey (drums).
Their influence has outweighed their relatively modest record sales. Robert Smith has described how, after seeing the group live, influenced The Cure's sound after their first album.  Wire and The Cure played a double header at Aylesbury Friars in early 1979.
A plagiarism case between Wire's music publisher and Elastica, over the similarity between Wire's 1977 song "Three Girl Rhumba" and Elastica's 1995 hit "Connection", resulted in an out-of-court settlement.
Their December 1977 date at The Nag's Head came as part of a nationwide tour to help promote their latest single – Manequin/Feeling Called Love/12XU and debut album – Pink Flag. Dates on the tour also included two nights supporting The Tubes at Hammersmith Odeon (6th and 7th December 1977).
Aside a period of solo activities from 1981 to 1985 Newman, Lewis and Grey continued to perform together as Wire and in January 2017 they released a new album called Silver/Lead – their 16th studio album.
Support act, Trash, appear to be a band with members from Weybridge and Reading. The link below to the excellent boredteenagers website gives more background – including a mention of their gig in High Wycombe supporting Wire.
For your viewing and listening pleasure
Manequin -Wire – audio
Three Girl Rumba – Wire – audio
Priorities – Trash – audio
Further reading:
http://www.boredteenagers.co.uk/TRASH.htm