Having played The Nag's Head less than two months previous, the Tom Robinson Band made a triumphant return for a Town Hall gig on Monday 28th November 1977.  The Nag's Head date had been at the start of their 'TRB Delivers' tour set up to promote their debut single, '2-4-6-8 Motorway'.  The success of the single had thrown the band into the spotlight, with a Top of the Pops debut on Thursday 27th October 1977 and the single subsequently reaching the top 5 of the UK singles charts.
Tom Robinson's promise to the audience of October 1977 gig at The Nag's Head to return to the town was honoured with another Ron Watts promoted affair at The Town Hall. Tickets for the gig had been sold at the recently opened Scorpion Records.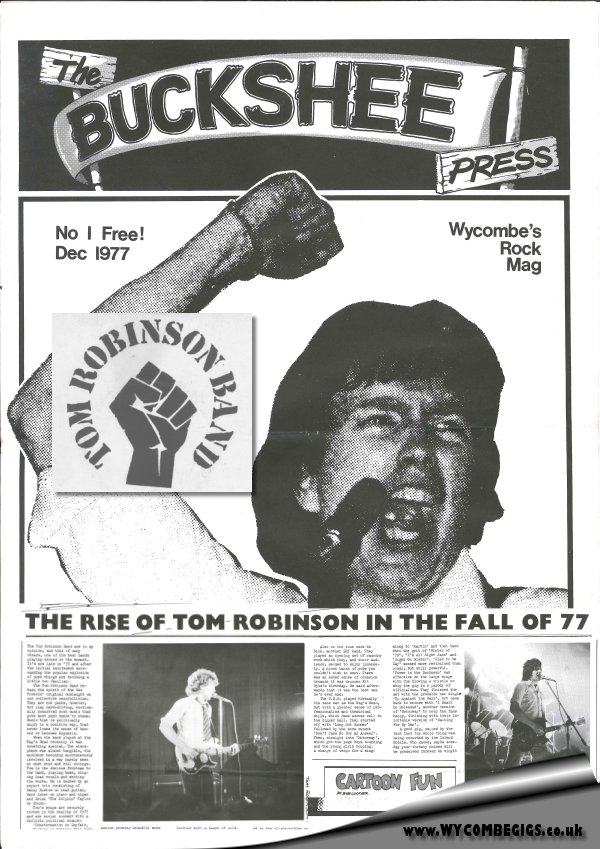 A review of the gig was included in the debut edition of High Wycombe fanzine, 'Buckshee Press' where Peter Cottridge wrote: "[TRB's] return [to High Wycombe] illustrates just how far [they] have come since playing The Nag's Head. From local favourites to pop-stars in just eight weeks! A single in the top five, vast amounts of equipment back drops and young girls (?) hankering for autographs at the stage door.  An inevitable process richly deserved by the Tom Robinson Band."

The fanzine confirms the set list for the gig at The Town Hall was much the same as The Nag's Head and included the following:
Long Hot Summer
Don't Take No For An Answer
2-4-6-8 Motorway
Martin
Winter of '79
Better Decide Which Side You're On
I'm All Right Jack
Right on Sister
Glad to Be Gay
Power in The Darkness
Up Against The Wall
Encores were, Bob Dylan's 'I Shall Be Released' another play of '2-4-6-8' and Lou Reed's 'Waiting For My Man'.
The whole gig was recorded by the Island Mobile and the track 'Right on Sister' was included as one of four tracks on the 'Rising Free E.P.', released in early February 1978 as a follow to '2-4-6-8'.
TRB would release their debut album, 'Power in the Darkness' in May 1978 and return again to the Town Hall in April 1979.
Right on Sister – audio recorded live at Town Hall, High Wycombe, November 1977
Don't Take No For An Answer – audio recorded at Sussex University, Brighton, December 1977